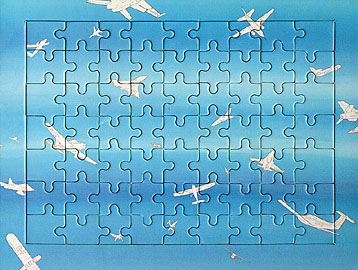 Hans Ulrich Obrist, is there anything you haven't done? In 1993 as part of the Museum In Progress project, Obrist helped the Italian conceptual artist Alighiero e Boetti realize a longtime idea of putting art on airplanes.
In addition to double-page spreads in their in-flight magazine, Austrian Airlines made six seatback tray-sized puzzles available of Boetti's drawing series, Cieli ad alta quota (High in the Sky).
If any puzzles survived to be collected or traded, they're not generating the typical online info flotsam. Maybe in this case, it should be jetsam.
Museum in Progress On Board [mip.at]