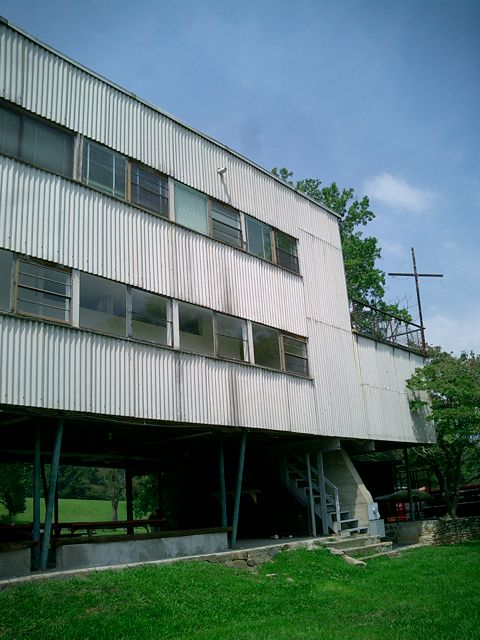 Looks like I picked the wrong end of North Carolina. While I was bumming around the Outer Banks, Mondo Blogo was surely doing The Lord's Work in the mountains. Black Mountain College, to be precise, or what's left of it.
He and his mom [!] visited Camp Rockmont, the Christian boys camp on the shores of Lake Eden, which absorbed BMC's homebrewed modernist buildings after the school closed. There are great photos of A. Lawrence Kocher's 1940-1 Studies Building, a low-slung, low-key, low-budget International Style marvel of corrugated metal siding and ribbon windows. Including this one, which features the old re-bar cross or somesuch.
If you can piece it together from the BMCProject website, the architectural story of Black Mountain College is as fascinating as the art and curriculum. Kocher, the editor of Architectural Record, was the last-minute replacement for Walter Gropius and Marcel Breuer. He was also the collaborator on Albert Frey's first building in the US, the 1931 Aluminaire House, which bears a strong family resemblance to the Services Building.
After discovering that building and pulling it online last summer, I stumbled across a Black Mountain College mystery, a cool, little, unidentified plywood building that I speculated might have been by Kocher. It turned out to be Paul Williams' Science Building, built in 1949-50 with the help of students Dan Rice and Stan VanDerBeek.
Is there a beautiful, comprehensive exhibition and catalogue for Black Mountain College? Because I really think there oughta be.
Black Mountain Madness [mondo-blogo]