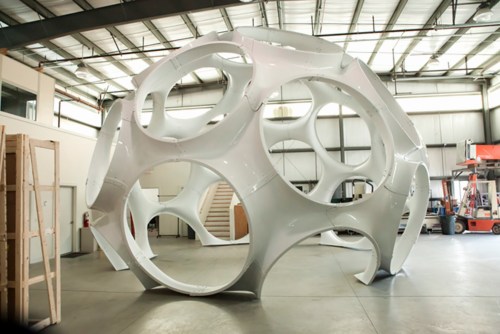 So everyone dutifully reproduced the press release about Craig Robins putting Buckminster Fuller's 24-foot version of the Fly's Eye Dome through a "historic restoration" by boat fabricator Goetz Composites, yet no one seems to have followed through with picture of the completed job. Well here you go, from Goetz themselves.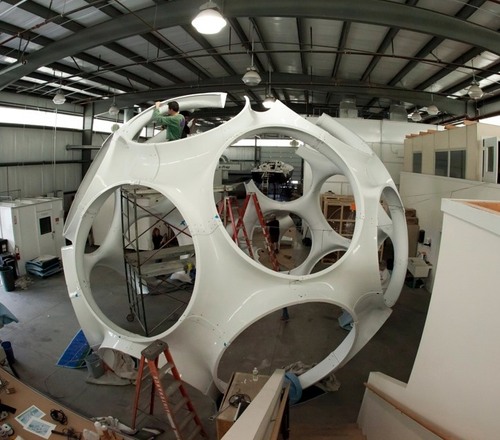 In 2008, Max Protetch exhibited the fiberglass dome, a prototype manufactured in 1976-7--which used to be described as a 26-foot diameter dome, btw--at La Guardia Place in the Village. The photo below is from his installation at Protetch: Beacon last year.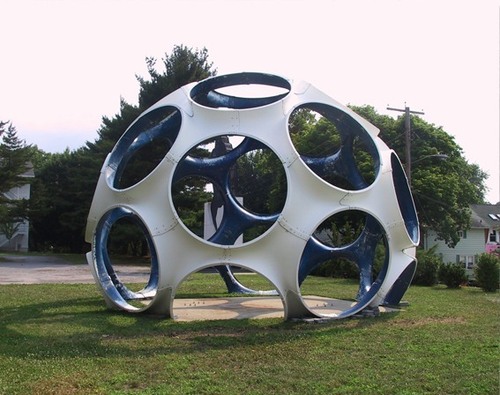 Said the press release:
Eric [Goetz] and his team, working with Daniel J. Reiser and John Warren who fabricated the original structure with Bucky, have gone to extraordinary lengths to engage this process with the same meticulous detail as a world-class fine art restorer.
Which is apparently not the same thing as restoring a world-class work of art, or even a piece of design, where the patina is to be preserved, even treasured, but more like a Pebble Beach concours-style project, where you chrome-plate all the screws.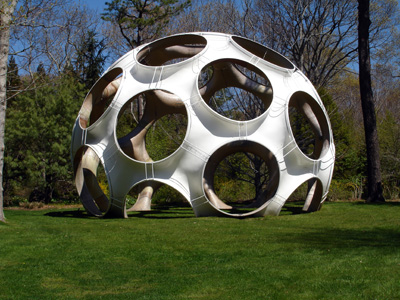 Maybe it could be argued that stripping off the blue paint on the inside brings it closer to its "original condition." But looking at the raw fiberglass interior of the 33-foot dome Jack Lenor Larsen installed at Longhouse Reserve in Easthampton, I wonder if original originally meant something else.
Larsen's dome was first loaned to him by Fuller's daughter Allegra Fuller Snyder. It was constructed by John Kuhtik, whose company Emod had by then been working to produce the Fly's Eye dome "for nearly a decade", presumably with Fuller's blessing and involvement.
Anyway, I guess I'm stoked that Protetch hustled and saved one of Fuller's rare artifacts, even if saving it means stripping it of its history. I'm sure it'll look shiny and fantastic in Miami.
Restoration of Buckminster Fuller's iconic Fly's Eye Dome at America's Cup [archdaily]