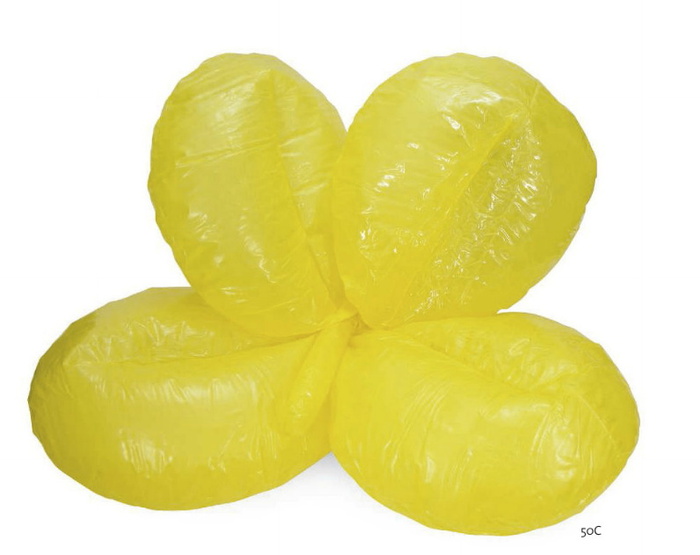 There's something kind of fantastic about Christie's selling this example of Koons's Parkett edition, Inflatable Balloon Flower, in the same season as Peter Brant's Balloon Dog.
With a radically tiny estimate [est. £500 - £700] and the giant, freaking caveat: "Please note that the present lot does not fully inflate."
In fact, there are only two lots in the sale with droopier estimates than the Koons. [The top estimate in the 95-lot sale, a private collection of all the Parkett editions from the journal's first 50 issues, is £150,000 - £250,000, for a Gerhard Richter squeegee painting, one of 120 unique works created in 1993 for Parkett 35.]
Which makes the Koons all the more attractive. Hasn't turgidity science progressed sufficiently since 1997 to fix this problem? Couldn't the skillful mouth of a trained fluffer help this aging Koons regain its youthful firmness and vigor? Maybe just a temporary fix for when you need it: the evening when the museum committee comes over for a collection visit, for example. And if your Koons inflation lasts more than four hours, then call your conservator.
And if all else fails, surely there are a million and one metaphorical uses for a deflating Koons balloon sculpture. There have to be a dozen newly minted MFAs who have been looking to fill that Koons-sized hole in their market-critiquing installations.
Sept. 26, 2013, Lot 50C: Jeff Koons Inflatable Balloon Flower - Yellow (Parkett 50/51) est, £500 - £700 [christies.com]
Previously, related: Ghetto Erased de Kooning Drawing