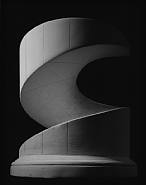 Sherman Sam interviews the artist Hiroshi Sugimoto about his London show at Gagosian. Sugimoto's latest works, originally shown at the Fondation Cartier, are photographs of early 20th-century mathematical and mechanical study models from the collection of Tokyo University.
Sugimoto provides some more background on the models, which were also photographed by Man Ray and studied--in their day, in the 1910's and 20's--by Duchamp, Brancusi, and others.
By happy coincidence, the same series are on view at Sonnabend until June 11.
Artworker of the Week: Hiroshi Sugimoto [kultureflash]
previously: On Math & Art in France