Why, copyright, for one thing. And a quaint, lingering fixation on outmoded technology for another.
Kim's St Mark's location got busted by the NYPD, the Feds--"everybody was here," says one nonbusted employee--the other day, who confiscated all the computers and arrested four employees.
Although the store has been a speakeasy-type outlet for bootleg copies of Matthew Barney's Cremaster Cycle and Todd Haynes' Barbie doll classic, Superstar!: The Karen Carpenter Story, neither Barbara Gladstone nor Christine Vachon--as intimidating as they are--was behind the raid.
No, it's an even scarier outfit--yes, it's possible--the RIAA, who patted the NYPD on the head in a statement given to MTV. Apparently the problem was the store's brisk mixtapes business, which, according to the RIAA, were largely "urban in nature."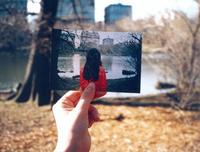 And speaking of urban in nature [sweet segue, right?], artist Janet Cardiff's audio/photo walking tour of Central Park, which was commissioned last year by the Public Art Fund, was so popular they're bringing it back again this summer. The piece, titled "Her Long Black Hair," can be experienced by picking up a CD player, CD, and stack of photos at a kiosk on Central Park South, Thursdays through Sundays until Sept. 11, only between 10 and 3:30.
I guess we should be only slightly thankful the original equipment--a Victrola in a wheelbarrrow and a watercolor set--didn't work out. It's nice to know that Cardiff's work is so popular, but it's too bad there's no easier way to distribute a 45-minute piece of audio and a handful of images to large numbers of people...a Magical Media Mover-- call it the MMM for short--and some kind of player for it, a 3MP... Oh, I give up. Never happen.
Police Raid Video Store in East Village in Piracy Case [nyt]
Police Seize 50 Cent, Jay-Z Mixtapes In Raid On NYC Store [mtv, 50 Cent? You mean the guy who launched his career via mixtapes? Someone's hatin' the game here.]
Read info from 2004 about "Her Long Black Hair," by Janet Cardiff,, which is being restaged June 16-Sept. 12 [publicartfund.org]