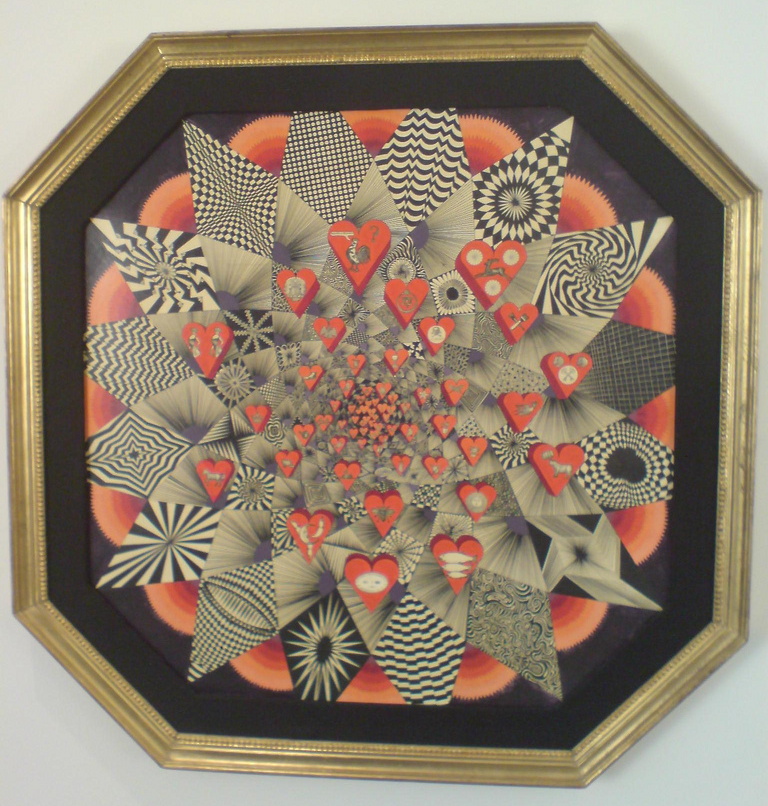 My step-father bought this crazy Pedro Friedeberg painting in 1966 in Mexico City. It's ink and paint on board, and the title is Hairless Hearts Of Some Hairy Nuns.
Here's a large detail of the central rooster, who is saying "Pseudo-Cybernetics."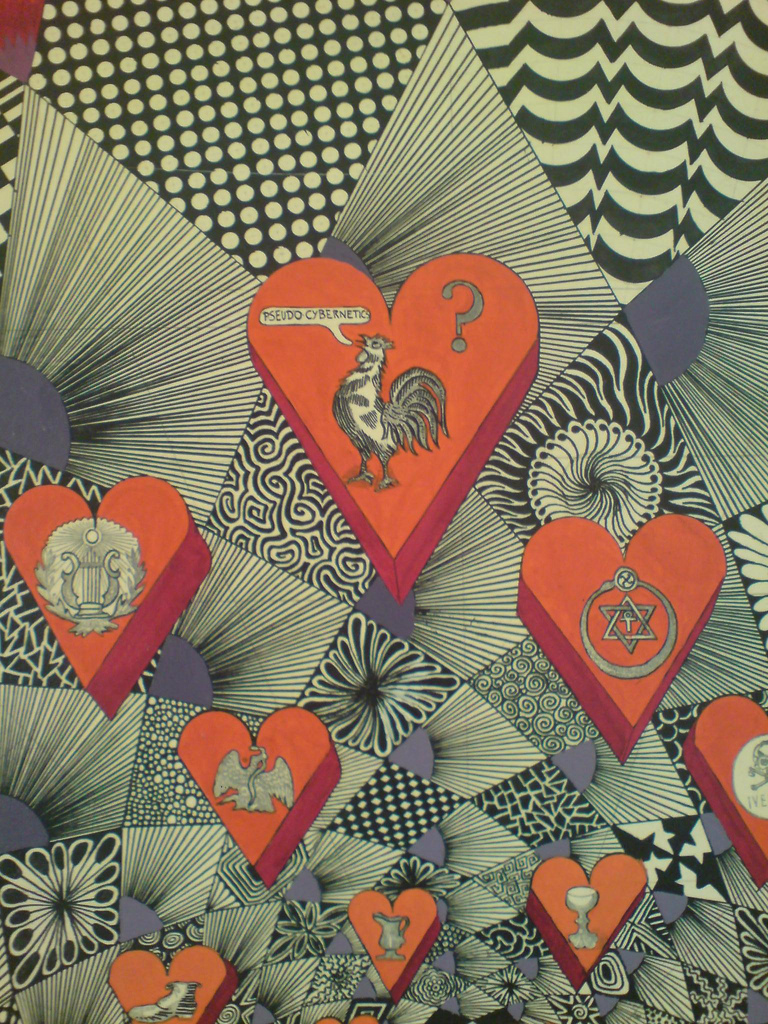 Friedeberg is an esoteric, dada-esque, surrealist probably best known for his large, hand-shaped chairs. He seems like quite a character, sort of a Mexican Dali making spritist Vasarelys.
Hairless Hearts... was included in an exhibition at the Antonio Souza Gallery organized as a cultural sidebar to the 1968 Mexico City Olympics.
Here is a list of the other paintings in the show:

"A Machine Made to Frighten Tailors (Also Can Be Used To Slice Water)"


"Luis XIV's Discotheque"


"Tehuana Orphanage"


"Confessions of An Iconoclastic Sea-Urchin"


"Madame De Pompadour's Electric Chair"


"The Aristocrats' Lighthouse"


"The Head of "Chez Twiggy," An Old Peoples' Home, In Her Pseudo-Cybernetics Style Uniform, ORders The Immediate Expulsion Of All False Optimists, In Inverse Alphabetical Order"


"Good Morning, Miss Watermelon"


"The Pockmarked Czarina Becomes Indignant Over The Statistics Presented By The Minister of Oceans And Clouds During A Round-Table Discussion On Eskimo Astrology At The Congress of Natural and Applied Pornography"


Left Hand of the Viceroy Gumersidno Sirloin and The Hand of His Niece The Disreputable Marchioness Brujulilla De Bourbon"


"Paganini's Bath"


"What We Found In Aristotle's Pyjamas"


"Orphanage for Squint-Eyed Children Sponsored By Baron Von Pipian"


"Socrates' Garbage Pail"


"An Hermaphrodite Baby Elephant Learning Russian"


"Afternoon Outing Of Little Beige Riding Hood"