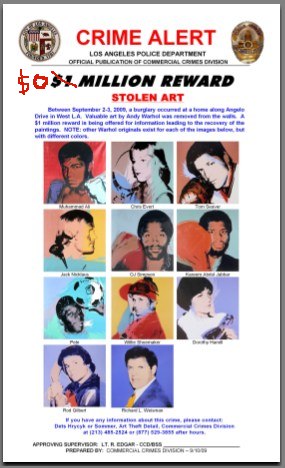 Well that's complicating. Richard Weisman has withdrawn his $25 million insurance claim for the 11 Andy Warhol paintings he reported stolen last month from his home in Los Angeles. As a result, the insurance company, Chartis, has withdrawn its offer of a $1 million reward for the works' recovery.
As the Seattle Times reports,
he simply couldn't stand the thought of insurance investigators poring through his personal records and interrogating his family and friends before he stood any chance of collecting.

"They turn you into a suspect. I just finally told them, 'I'm not going to go through it for three to five years. Forget it,' " Weisman said. "That's the only reason, and it's a good enough reason."

...

"It's a lot of money he gave up," [LAPD Art Detective Don] Hrycyk said. "It's one of those puzzling aspects you have to take into account when you do your investigation."
Uhm, ok! Hrycyk's partner Mark Sommer also said his office had been having a difficult time contacting Weisman about the theft.
Mhmm
.
Weisman commissioned eight sets of the Athletes paintings in 1977. He has since given away four sets, and has kept a set or two on the market for the last few years. So obviously, he's not short of Warhol Athletes. Bully for him, but what about the rest of us?
While I worried for a second or two, I realized that even without the reward, the Find The Warhols Project is still desperately needed. With so many Warhols out there, it's more important than ever for collectors, traders, and brokers to have a handy reference to check the hotness of their wares.
I assume LAPD will issue a new Wanted Poster [update: they did, for the third time, apparently], but for the FTW! Project, I'm inclined to stick with the original. When posters go out, I will personally add the up-to-date reward information to each work by hand. Just like Thomas Kinkade.
And since Chartis, better known until July as the commercial insurance operation of AIG, is owned by the US government at the moment, taxpayers just saved $1 million - $25 million! It's win-win-win!
Only 10 days left to join the Find The Warhols! Project [kickstarter.com]
See the original Find The Warhols! Project post [greg.org]