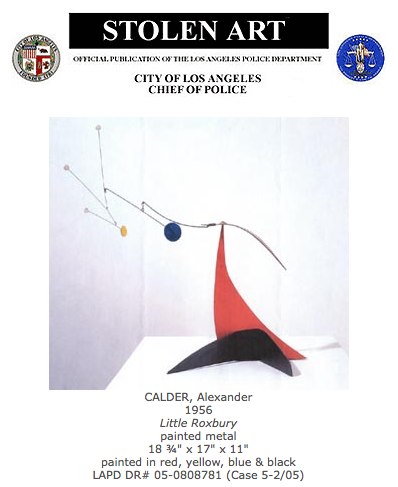 Considering the awesome graphic power of their official publications, you'd think I would have visited the Los Angeles Police Department's Art Theft Detail website sooner. Well, let me make amends:
THE LAPD ART THEFT DETAIL WEBSITE IS FANTASTIC!
Seriously, there is some great art in LA. Or at least there was, until it got JACKED.
Richard Weisman's Warhols may be the biggest art heist of the year–and it definitely has the greatest poster–but just take a look at this small, curated showcase of some of LA's greatest stolen art. If you have seen any of it lately, of course, please contact the LAPD:
The stolen art alerts usually don't mention any circumstances of the theft or the owner. The only clue is the case number, which is usually keyed to the date. Alexander Calder's tabletop stabile, Little Roxbury (1956), [above] was stolen in 2005.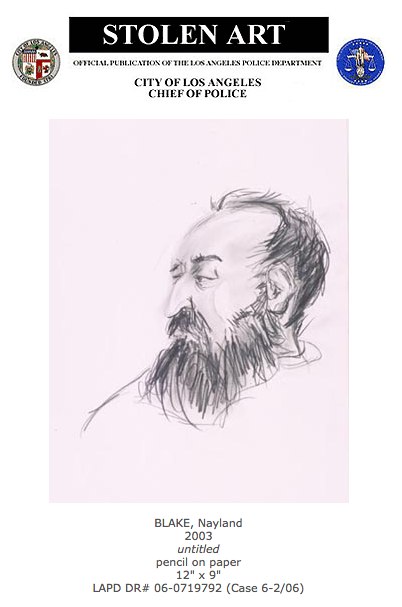 This simple, unassming drawing by Nayland Blake (2003), is just 9×12, small enough to stick in a folder or stack of mail. It was stolen in 2006.


Lee Mollicone, Can-Am (1974): I can't find any information at all about the artist, but this sweet photorealist painting of legendary Manhattan Beach Porsche dealer/tuner Vasek Polak's 1973 Porsche 917-10, driven by Brian Redman, certainly gives me larcenous thoughts. [funny thing: that wasn't even a real 917-10, but Jo Siffert's original 917 PA, reskinned and fitted with an 1100hp motor. What an odd Porsche to commemorate.]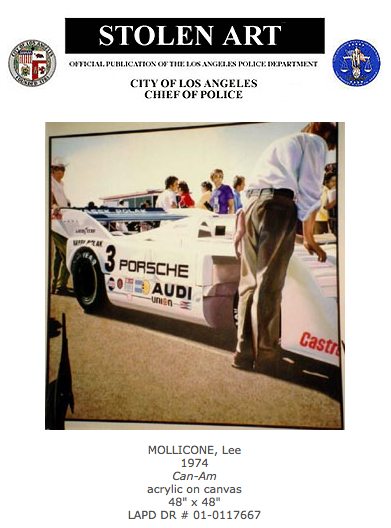 Speaking of odd, Big Red is an undated lithograph on canvas by the late comedian/painter Red Skelton. It's numbered 175/2500 [is that right? not 250?] and has been missing since 1997. How ever does the owner cope with the tragic loss? Hey, here's the crime blotter report. It was swiped from a gallery in "just a matter of three or four seconds."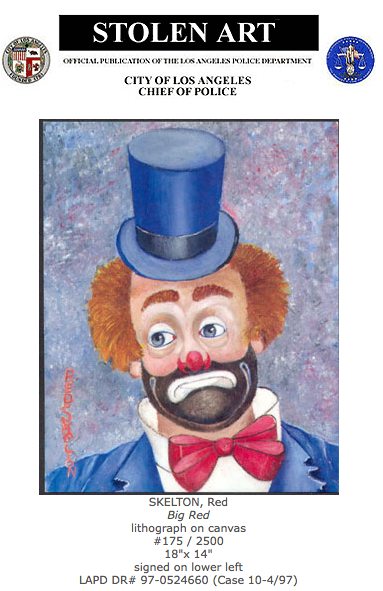 Kawaii is no protection against theft, as witnessed by this adorable little [6×10] Yoshitomo Nara from 2000, [left, below] mistitled Hinagiki [it's actually Hinagiku] and Mr. Cloud, a 2004 painted resin objet by Takashi Murakami,. Mr. Cloud, who may be better known as Kumo-Kun, was stolen in 2007, the year Murakami had his big retrospective/pop-up shop at MOCA. Another Kumo-Kun, sold at Sotheby's in May 2008 for a whopping $193,000 [ahh, those were the days]. Oddly, the sold one was described as a 2003 work, #2 from an edition of 10. But the stolen one is supposedly #5 of an edition of 8. A Kumo-Kun was certainly included in Blum & Poe's inaugural show when they opened their La Cienega space in the fall of 2003. Maybe it took until 2004 to complete the whole edition, and maybe 10 were declared but 8 were made? It's a mystery within a mystery.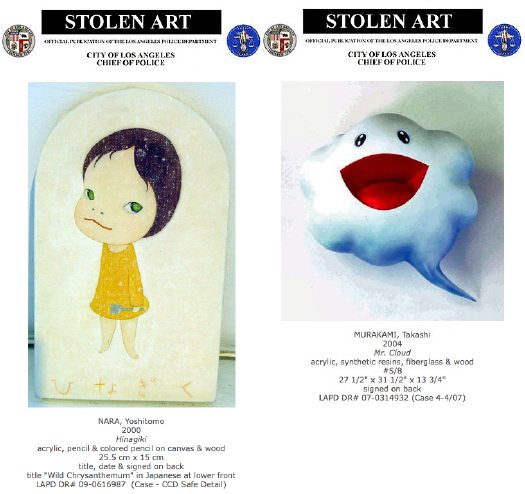 I can't figure out the how, much less the who, in the theft of Ruth Snyder's large bronze or steel bone jungle gym-shaped sculpture, Bone Rainbow, which was apparently jacked soon after it was exhibited at the Barnsdale Art Park in 2006.


The how, meanwhile, of stealing a doorstop-sized, bronze garden ornament by Isamu Noguchi, meanwhile, is easy; it's the why that's the mystery. The thief left the other two pieces of the work, Garden Elements (1962) behind. So sad.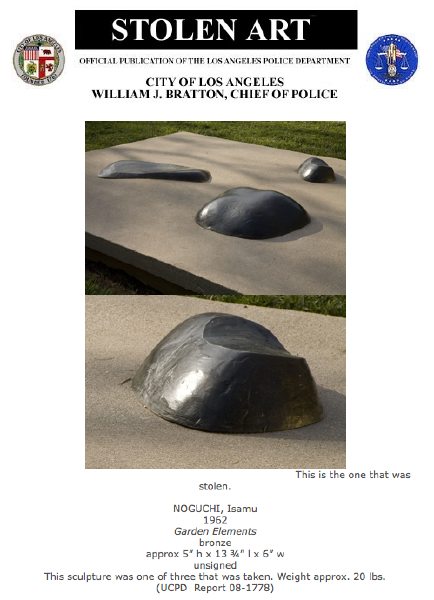 Juliet, a moody, little 1940's photo by Man Ray, measures under 3×5 inches. Whether someone palmed it or sliipped it into his pocket, it's been missing since 1997.


Virtues of the Academy (1966), an abstract painting by Peter Plagens, who is currently the art critic for Newsweek, was stolen in 2000.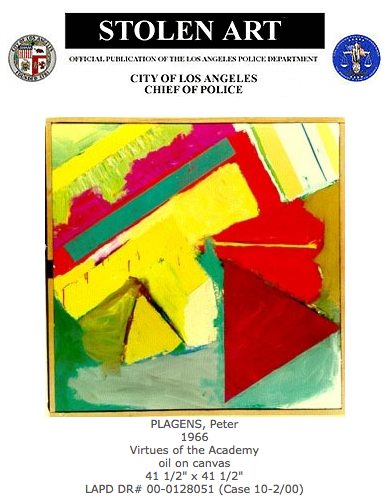 If the Weisman Warhols are the biggest contemporary art theft in LA, the 2008 Roland heist is probably the most significant loss for modern art. And pretty damn brazen. At least a dozen paintings by major early 20th century painters were taken in just minutes from two side rooms of an Encino collector's house–while the family and maid were all in the house. The theft includes works by Hans Hoffman, Marc Chagall, Kees van Dongen, and two portraits by one of my personal favorites, Chaim Soutine.


There's a $200,000 reward and a sweet, Find The Warhol!-esque poster [pdf] So if you see something–say, at the flea market in Pasadena–say something.
And to end on a hopeful note, at least for the Find The Warhols! project, the Art Theft Detail has actually found some Warhols already. A series of portraits of Warhol's art world contemporaries, which was stolen in 1989, is listed as RECOVERED on the LAPD site. The set of five silkscreen on canvas was made in 1967 and included Lee Bontecou, James Rosenquist, Jasper Johns, Frank Stella, and Bob Rauschenberg.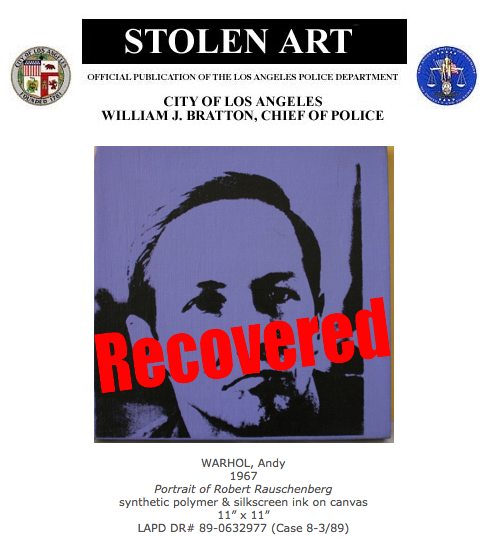 Find The [Other] Warhols!