I just got the first prints of Dutch Landscapes to paint. And I've captured a few more to prep for printing. Here are a few more of the camo-obscured Dutch sites I also like but haven't gotten around to capturing and printing yet. Most are military or intelligence installations of some kind, culled from the Onherkbaar/Unrecognized list here: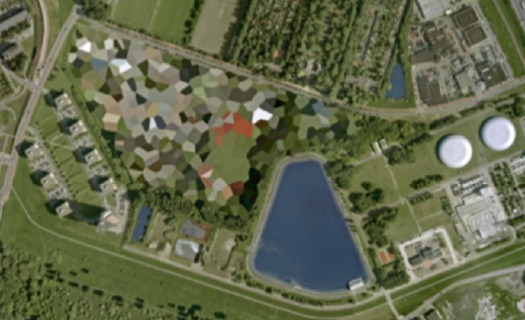 The landscape and architecture around this one on the Maas in Rotterdam has a really nice, explicit geometry of its own. The light in some of these is just wonderful, too. So strong and clear. Which is what you'd want, obviously, for aerial photomapping. As Stefan reported on Ogle Earth back in 2006 when this dataset debuted, the fact that these were not satellite images is intrinsic to their camo censorship. Satellite imaging is considered to be beyond Dutch jurisdiction, but permits are required for aerial surveying, and the images are reviewed to censor "vital" military or intelligence buildings and sites.
More landscape geometry. This one reminds me of Isamu Noguchi's admiration of hatake, the rice paddy landscape of Japan, a terrain which, like the Netherlands, was the product of centuries of intensive human sculpting and engineering. [That said, I can't find any mention of the Noguchi quote I'm thinking of.]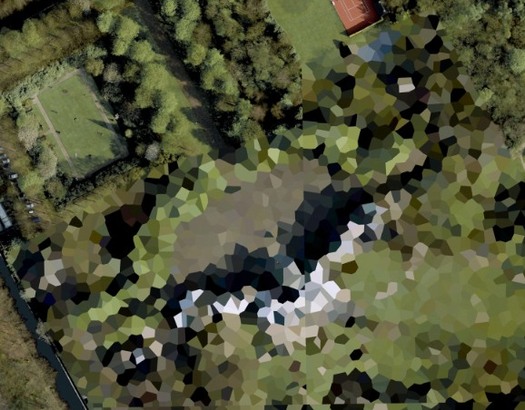 This one's the Palace Huis ten Bosch, the Queen's residence. I love that the tennis court and the sculpture garden at the top are not considered "vital" sites. While trying to identify any of the installed works, I learned that H.M. Queen Beatrix is quite a fan and practitioner of sculpture and maintains at studio there at the palace.