What Would Danh Vo Do? Send in your proposal today! Must be "large and impressive"! #wwdvd

— gregorg (@gregorg) July 7, 2015
Oh no, I was too slow. I was in the middle of a deadline-intensive project when I suggested that. While I understood the reluctance, even the revulsion, an artist might feel, but being compelled by a judge to make a "large and impressive" artwork–and a $350,000 one, no less–sounded like a fascinating situation. What would you do?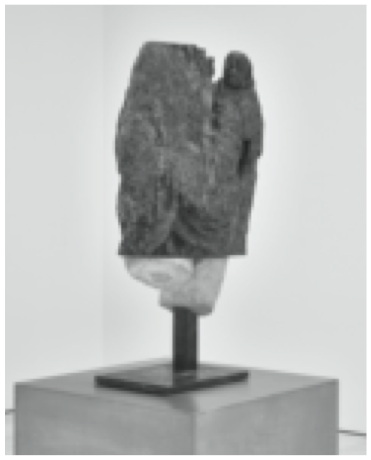 …, 2015, oak and polychrome Madonna and child, French Early Gothic 1280- 1320; marble torso of Apollo, Roman workshop, 1st-2nd century ad; steel 154.2 × 50 × 50 cm
Courtesy of the artist and Marian Goodman Gallery [works list (pdf) via palazzograssi.it]
Well, today, just as I was mapping out the parameters of my own proposal, Danh Vo apparently answered that question himself. His proposal to Dutch-in-Switzerland collector Bert Kreuk was a little unclear in the details, but it involves a quote from the demon possessing Regan in The Exorcist, which Vo had also used for a piece in his show at Marian Goodman in London last January, and which he included in "Slip of the Tongue," his fantastic group show at Punta della Dogana in Venice. [I guess it's still available. Ask for it by name!]
Maybe Vo already had this whole Kreuk/Gemeentemuseum/lawsuit situation on his mind when he chose The Exorcist for his source material. Who knows? But the artwork parameters cited in the court's new ruling in Kreuk's lawsuit are intriguing enough to lay out, and at least give some though to the question: What Would Danh Vo Do?