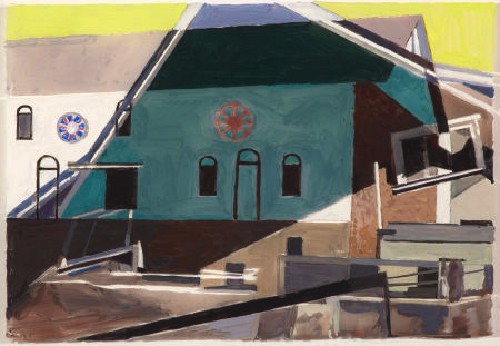 To be honest, I've never felt very interested in the late paintings of Charles Sheeler. After his Precisionist, industrial peak, and his consistently strong, modernist photography, the delicate, highly constructed, cubist/abstract Pennsylvania barn compositions seemed a little twee. They certainly weren't where the action was in the 40s and 50s, either; that would be Action painting.
But I guess I'll need to take another look. I kind of like this loose little tempera study for one of his last paintings. Apparently, Sheeler would work out his composition in several preliminary stages; after paper came this one here, tempera on Plexiglass, which seems an odd step. Then came board, and finally canvas.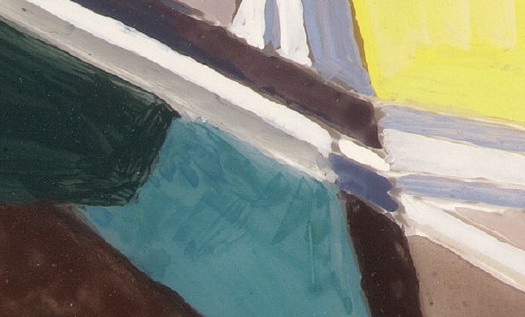 Maybe it's nothing great. Maybe it's just nice to be able to zoom all the way in and see what brushstrokes look like on a glossy, hard surface. Heritage Auction in Dallas certainly wins the prize for best online photodocumentation of its lots.
Lot 66036: Barn Decorations (Hex Signs), 1959, Charles Sheeler, tempera on plexiglass, 6.5 x 9.5 inches [ha.com]
Previously: starting the dutch landscape paintings project