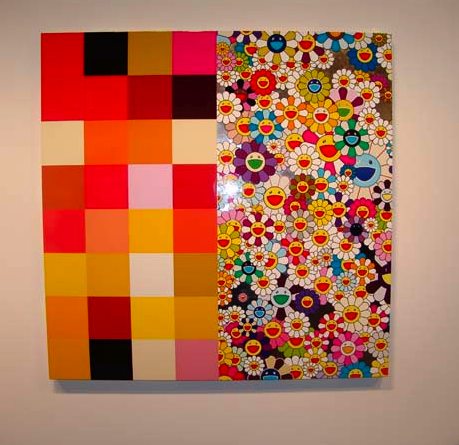 I didn't realize it until I surfed across this half-pixelated Takashi Murakami painting, but I have Murakami's factory lodged in my brain as a model of digital-to-analog painting and production.
Back before the whole Louis Vuitton thing, even before Kaikai Kiki, I used to go to Hiropon Factory, Murakami's Brooklyn studio, somewhat regularly. It seems quaint now, compared to the scale of the Murakami machine. But there'd be teams of painters carefully translating computer-generated illustrations to canvas, one mixed-and-matched color at a time. It was a Superflat paint-by-numbers.
For all the hype, there's something refreshingly cynical about Murakami's practice, which I think looks quite different in a Japanese/Asian context than it does from within the Western Art World.
The group show this painting was in, "Hi & Lo," was curated by trendchasing fashion guru Hiroshi Fujiwara at the Kaikai Kiki space last October. It included Murakamis and works from Fujiwara's collection, as well as works by Fujiwara fabricated by Murakami's staff. And there was merchandise--jeans, tote bags, t-shirts--"which used the paintings as a foundation."
Except that the paintings themselves are based on something: Murakami's underlying IP--his characters, visual language, design elements, etc. It's the same basis which gets translated into products and media from paintings to plush toys to cell phone charms, all at different price points. In the Japanese context, there is no distinction between craft and object and art. It's a perspective that makes me weigh my own assumptions and motives for making a painting vs a photo vs a print, an edition vs a unique work.
for this image and many more: "Hi & Lo" Curated by Hiroshi Fujiwara and Presented by Takashi Murakami [slamxhype.com]
Hi & Lo Opening [kaikaikiki.co.jp]