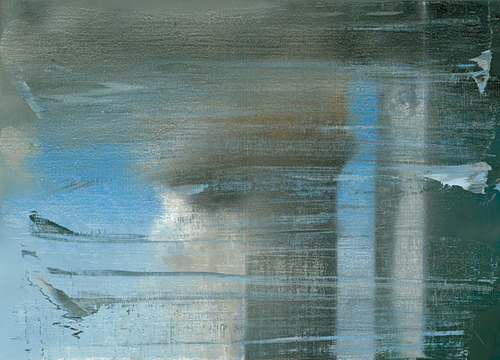 Seriously, I could fall into Gerhard Richter's website and not surface for days. There's just so much stuff. And related stuff. And meta-stuff. Auction histories for specific works? Cross-referenced Atlas pages? It just goes on and on and on.
Recently, two interviews with Rob Storr were added: one is about Richter's Cage Paintings, which Storr showed at the Venice Biennale in 2007, and which are now at the Tate. [It's a comically great business model to make and sell giant series of paintings intact instead of slogging it out one by one.] There's a lot of discussion and still photos of the making of palette knife & squeegee process for the abstract pictures--I always thought Richter only painted them on a table, but there he is on his ladder. And Storr has a thoroughly enjoyable smackdown of the fiercely "deterministic" Rosalind Krauss's connection of Richter and Johns. I'd pay cash money to see that panel discussion.
Same day/same outfit is another video, Storr is in the office at Marian Goodman, discussing September, the small monitor/TV screen-sized painting of the World Trade Center attack that opened Richter's latest show at the gallery. [Yeah, I know it was actually a photo of the painting.]
It's funny, I'd conveniently forgotten how central war, destruction, civilian casualties, and terrorism have been to Ricther's work and his experience. How does that happen? Anyway, it's interesting stuff.
Gerhard-Richter.com [gerhard-richter.com]