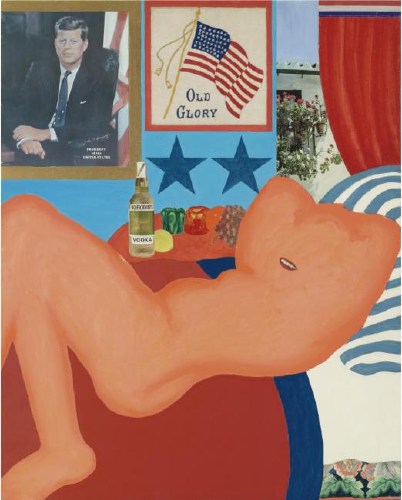 So I went to the Archives of American Art at the Smithsonian this morning to do a little research on the Washington Gallery of Modern Art. Unfortunately, most of the WGMA's archives are still at the Corcoran, which merged [ahem, subsumed or salvaged?] with the WGMA to save it in the late 60s.
Still, I did find another account of "the Gallery's Wesselmann Incident," as WGMA Chairman Julian Einenstein put it. And though it differs from the version Mary Meyer biographer Nina Burleigh heard from Alice Denney, it doesn't necessarily contradict it.
In May 1963, Einenstein was told by James Truitt--yes, husband of, and a Gallery trustee, and someone who was very involved in its creation--that Art News would be running an editorial about the WGMA rejecting Wesselmann's Great American Nude #21, above.
It turns out they were just running a letter from the artist, complaining about the situation, but before they knew that, Einenstein composed a letter to Art News editor Thomas Hess, giving him "the facts." The letter was apparently never sent. [I'm not quoting at length here because I didn't really pay attention to what restrictions I agreed to about publishing Archive material. The kid was getting a little antsy in her stroller, and I didn't want to wear out her welcome.]
The whole thing went down in April. Einenstein framed the dispute as the result of "internecine warfare" between WGMA director Adelyn Breeskin, and the assistant director, Alice Denney, who was curating the show. Breeskin reportedly thought the painting of a nude figure with JFK was "in poor taste," and rejected it. Einenstein said it was Breeskin's decision to make.
Denney sought to reverse the decision "by both subtle and direct means. The pressure which she was able to apply was considerable," leading Einenstein to call a full Board meeting. Eleven Board members then voted, not on whether the painting was appropriate or not, but on whether Breeskin had the authority to make the decision. They all affirmed she did, and #21 was out.
You can see how this version could mesh with Burleigh's [which is Denney's]. And it's easy to imagine Einenstein's description of Denney's "considerable" pressure including getting Meyer to take the issue straight to JFK himself. What Einenstein didn't mention, though, was that Breeskin had already told the Board she would be resigning. The folders for the months before and after the "Wesselmann Incident" are full of Einenstein's letters soliciting recommendations for a replacement director.
Whether the Board was staying supportive of its director's authority, even as she was on her way out, or whether some Trustees didn't want the painting, but didn't mind having Breeskin's fingerprints on the knife, is still not clear. But I'm tempted to just say, "Forget it, Jake, It's Washington."