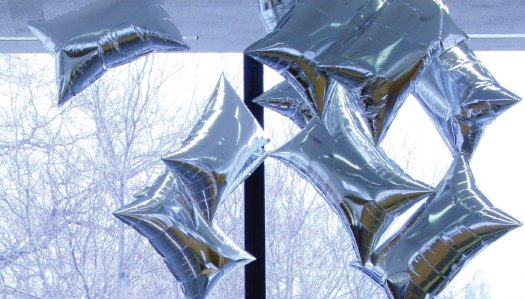 Bell Labs' Billy Kluver guided Andy Warhol to the Mylar balloons the artist used for Silver Clouds, his 1966 installation at Leo Castelli Gallery. And at Ferus Gallery. And at the Cincinnati Arts Center.
At the time, Bell Labs was operating both Project Echo satelloons; after Echo II's launch in 1964 until Echo I's disintegration on re-entry into the atmosphere in 1968, these two giant Mylar balloons were visible with the naked eye around the world.
Flash forward to this week, when the Mies van der Rohe Society opened the largest Silver Clouds installation ever, somewhere between "hundreds" of balloons and "1,000" at the Illinois Institute of Technology's Crown Hall.
At current Armory Show prices, that's up to $5 million worth of balloons!
ANDY WARHOL'S SILVER CLOUDS FILL S. R. CROWN HALL, through Aug. 1, 2010 [iit.edu via c-monster]
video: Warhol and Mies: Floating Silver Clouds [edwardlifson]