Now before we get too far, let me state for the record that so long as there's no thievery or lying involved, but appropriate credit or consideration is, I got no problem at all with a man who takes another man's photograph, tweaks it a bit, and re-presents it as his own.
That said, I am blown away by the awesomeness of Tyler Green's investigative interview with photography curator Weston Naef that questions the attributions of many early photographs in the Eadweard Muybridge retrospective at the Corcoran.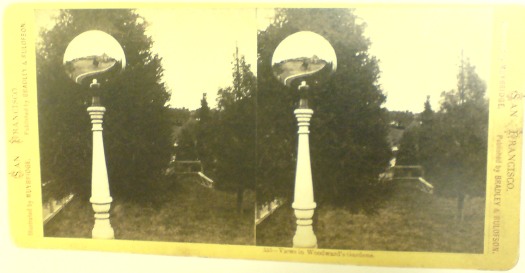 Naef has a pretty compelling, I'd almost say irrefutable, argument that before 1872, Muybridge published many photographs under his name [or his brand, really, since the questions arise about the period from 1866-1872, when Muybridge worked under the name Helios Studio] which were actually taken by others, including his friend and frequent business counterpart, the great Carleton Watkins.
Green and Naef cite specific examples of Muybridge photos slotting right into the missing slots in Watkins' photo sequences. There are even cases where the shots are identical.
The implications for the Corcoran's show--the first Muybridge retrospective ever--and the history of photography are pretty significant. Which doesn't necessarily take away from the exhibition or the catalogue, though Philip Brookman's account of Muybridge's career will certainly come in for revision.
I saw the show on opening day, and it is fantastic, an incredible accomplishment, and a wealth of wonderful photographs and stereographs. It was the show and the catalogue that catalyzed Naef's preliminary research, and the whole thing opens a very interesting window on the development of photography in the US, and especially in California, in the 19th century. There's much more research and analysis and discovery to be had here. And it'll be interesting to see how the show changes on its next incarnations at Tate Britain and SFMOMA.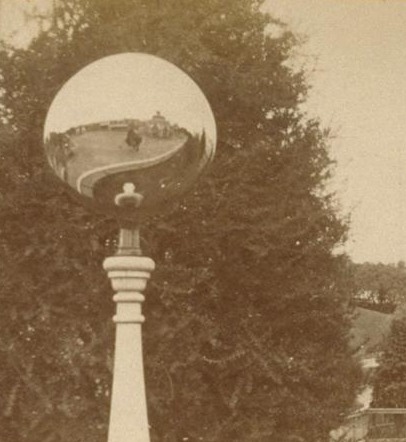 But I know what you're all thinking: what does this mean for me? And by me, I do mean me, not you. Well, it means that now I don't know who made one of my favorite oddball images from the Corcoran show, a stereograph from Woodward Gardens, an early zoo/amusement park in San Francisco. It shows a slightly generic garden scene, but the focus is on a mirrored garden ornament--in which the photographer's own self-portrait is visible. That thing looks so much like a vanguard satellite, or a satelloon mockup, I am powerless before it. And now I find out it might not be Muybridge at all.
The intro to the 3-part interview: The Newest Eadweard Muybridge Mystery [modern art notes]
Looks like they picked the wrong week to name their otherwise awesome exhibition catalogue: Helios: Eadweard Muybridge in a Time of Change [amazon]
The Corcoran show runs through July 18. [corcoran.org]
note: detail of the mirrored garden orb from UC Berkeley's Bancroft Library, via Calisphere [thanks for that, too, Tyler]