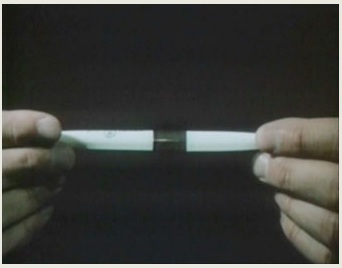 While scoping out the 1974 video art conference at MoMA, "Open Circuits, the Future of Television," filmmaker Jose Montes Baquer decided that for some reason, Salvador Dali should be the artist he would collaborate with for his documentary. Baquer tells the story of gaining audience with Dali at the St Regis to pitch the project in an all-too-short interview with Christopher Jones for Tate, Etc. Magazine in 2007:
Then Dalí took a pen from his pocket. It was plastic and ivory coloured with a copper band at the centre. He said: "In this clean and aseptic country, I have been observing how the urinals in the luxury restrooms of this hotel have acquired an entire range of rust colours through the interaction of the uric acid on the precious metals that are astounding. For this reason, I have been regularly urinating on the brass band of this pen over the past weeks to obtain the magnificent structures that you will find with your cameras and lenses. By simply looking at the band with my own eyes, I can see Dalí on the moon, or Dalí sipping coffee on the Champs Élysées. Take this magical object, work with it, and when you have an interesting result, come see me. If the result is good, we will make a film together."
The
2008 MoMA exhibit, "Dali and Film,"
says this quote came from a letter from the artist. The resulting film,
Impressions of Upper Mongolia, Hommage to Raymond Roussel
, concerns the relationship between macro and microscopic, and was shown on Spanish TV in 1976. As interesting as it is, Baquer's interview doesn't exactly help make sense of what the film actually turned out to be. But the mentions of painting over film stills, and Vermeer, and the Dutch penchant for mapmaking as an art form, almost persuade me to put up with Dali's pompous shenanigans to watch it.
Dali: The Great Collaborator [tate.org.uk]