Well this is a rather fascinating piece of information. Looks like I'll have to buy that awesome, 200-lb Carleton Watkins mammoth plates catalogue after all. [whoa, Tyler got blurbed!]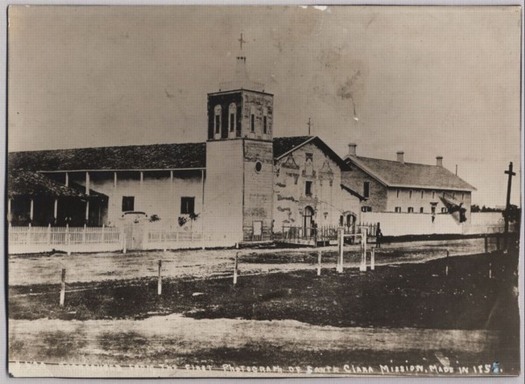 Carleton Watkins daguerrotype, c.1855-8, image: Santa Clara Univ. Archives via Calisphere
In his historically grounded retort to the very idea of taking umbrage at William Eggleston making newer, bigger, shinier editions of his old images, Tyler Green looks at how pioneering photographer Carleton Watkins did it:
The photograph at the top of this post is in the Santa Clara University Archives. It shows Mission Santa Clara de Asis in Santa Clara County. The picture is a daguerreotype that the university believes that Watkins took around 1855-57, maybe as late as 1858.

The picture to the right of this paragraph [below -ed.] is a 1878-83 Watkins mammoth print -- not of Mission Santa Clara, but of the daguerreotype at the top of this post.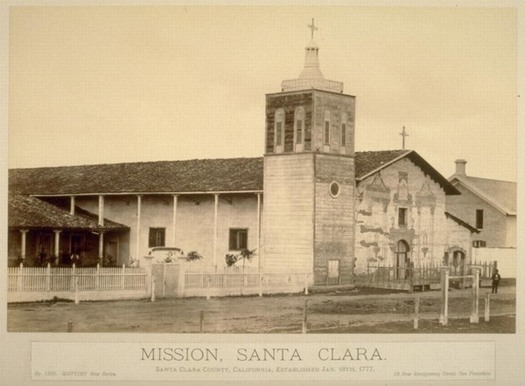 Carleton Watkins, mammoth print, c. 1878-83, image:
UC Berkeley's Bancroft Library via Calisphere
In other words, Watkins was rephotographing prints a hundred years before Prince. Tyler has another example of Watkins rephotography, which may even be of someone else's photo: an appropriation.
If they were doing it all in the 19th century, can we still call it contemporary art?
Putting Sobel v Eggleston suit in 19th century context [modernartnotes]