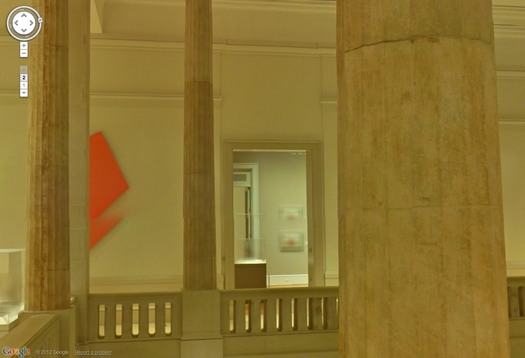 MoMA's not the only museum on Google Art Project to show works by artists living–or recently dead. The Art Institute of Chicago's stunning Sculpture Court is right there, too, with nothing less than Ellsworth Kelly's Chicago Panels, six monumental, shaped aluminum paintings from 1989-99. And they look fantastic.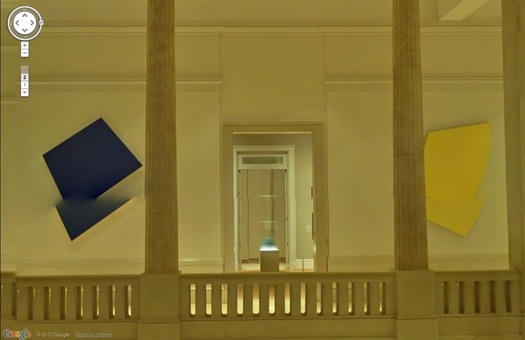 Their geometric precision makes Kellys almost ideally suited for marking Google's pano distortions. I love this double Kelly. How would that even exist as an object? Maybe we should get Bob Irwin on the horn.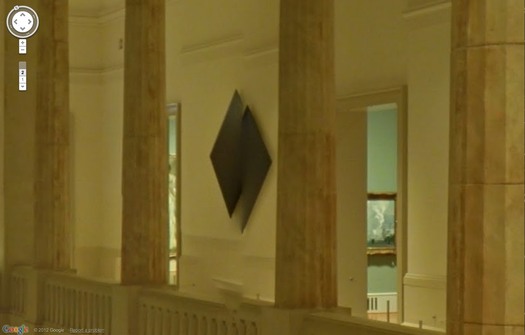 Even when they're not unevenly stitched, a Kelly in a Google Museum View pano is still distorted. Just tilting around inside a single pano sphere, you can watch the painting's dimensions pulsate and shift.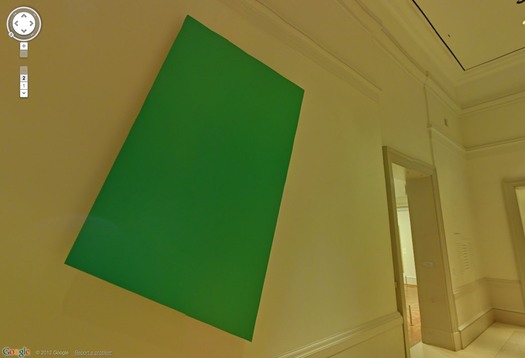 On Google, the kind of perceptual, perspectival changes a shaped Kelly goes through as you move around/along/towards/away from it now happen while you're standing still [sic], or whatever the term is for not warping to the next spot. This is what our art looks like on Google.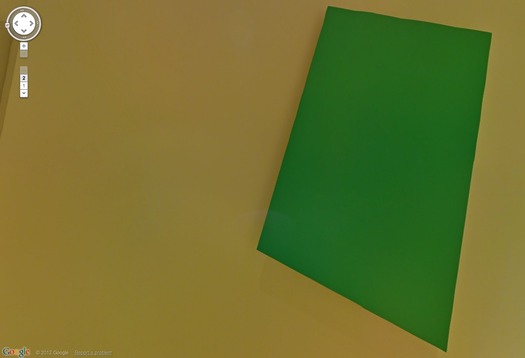 And this is what our culture looks like on maximalist copyright. Any questions?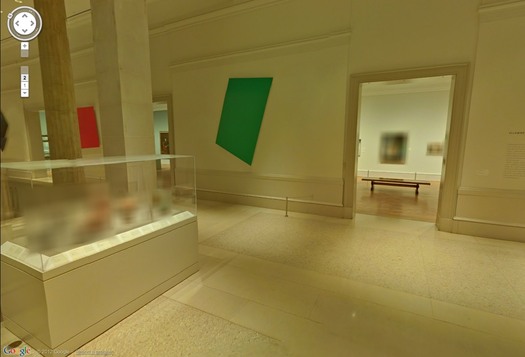 Just in these tchotchke-filled vitrines alone, the Art Institute may actually have more blurred out objects and paintings on Museum View than MoMA. Here's what we cannot see: products, design, ashtrays and pots.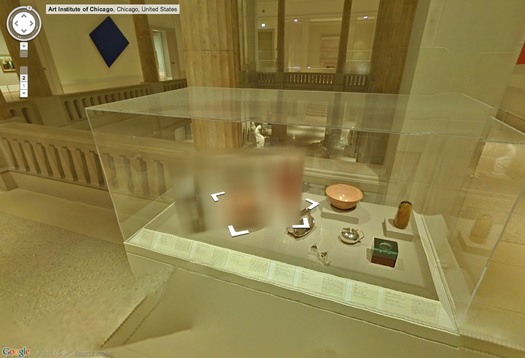 For these vitrines, I have to wonder if they just decided that clearing all these doodads from 20+ designers and their estates/mfrs was too much administrative work.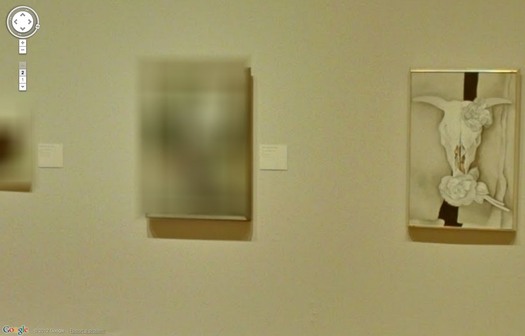 The spotty blurring in the Georgia O'Keeffe exhibit, though, indicates that something else was clearly afoot. It looks like the museum has repro rights for some works, perhaps those in their own collection, but not for others. Or maybe the Estate didn't give permission for some subset? Loaned works?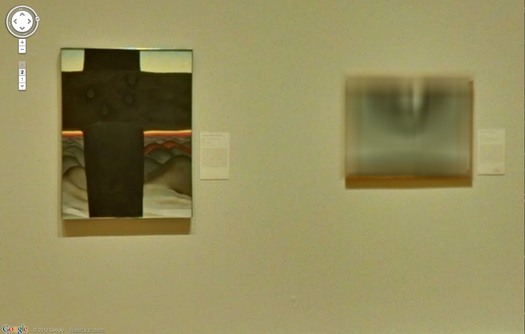 Including this probable landscape, which, hey, goodlookin', I'll be back to paint you up later. [update: it's Abiquiu Sand Hills and Mesa, 1945. Interestingly, it's from a 2002 gift–many of the AIC's O'Keeffe's came from the artist herself or Stieglitz–and it's one of two listed online as being "© Georgia O'Keeffe Museum." With no image, even a thumbnail, on the Museum's website. I think we have our explanation.]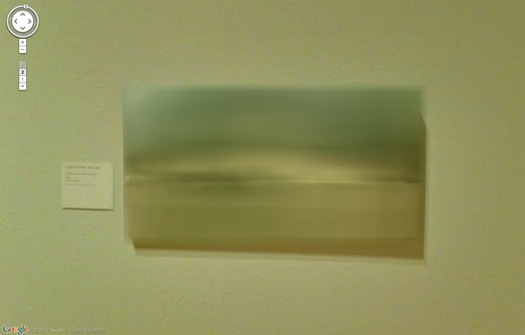 Here is a 94-year-old Paul Manship sculpture [and pedestal], now, thanks to Google and the Manship Estate, remade very much for our time.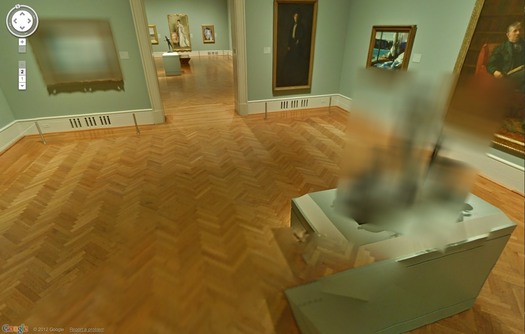 Now you know I love the blur, but even so, this shot actually kind of bummed me out. O'Keeffe hung on until 1986, but every other artist in Gallery 271, the Early 20th Century American gallery, has been dead for more than 40 years. I guess we should be glad Kelly was still alive to give his permission, because it looks like the estates put that kind of thing on lockdown. Or on the meter. [Not you, grandfils de Lachaise!]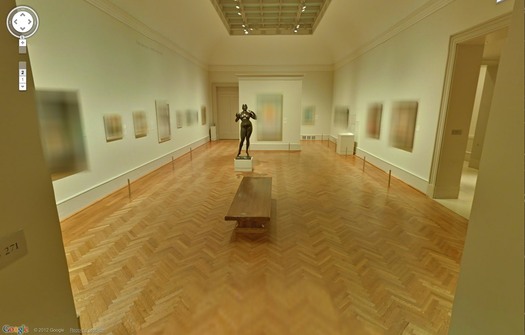 Here's an awesome but depressing view from Postwar, Gallery 262. I can't figure out the far left, but there's Jacob Lawrence, Ilya Bolokowsky, and Beauford Delaney on the wall there.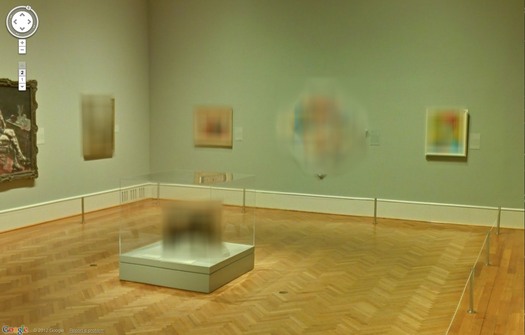 The unblurred Lawrence is nicely reflected in the plexi on the–seriously–blurred out Herman Miller table by Isamu Noguchi.
Previously: Blurring of Google Art Project comes as no surprise
Google Art Project v1.0: Les Blurmoiselles d'Avignon [Feb 2011]
Blurmany and the Pixelated Sublime [Nov 2010]