I still have not seen any news emerge from the special MOCA trustees' meeting held last Tuesday, but I assume it went swimmingly.
Because on Wednesday night, director Jeffrey Deitch was all smiles and business as usual, headlining Baguettemania, a pop-up store-in-store/booksigning at Maxfield to commemorate the 15th anniversary of Fendi's iconic It Bag.
There was a whole crew of MOCA folks in attendance, including MOCA publicist Lyn Winter and leading board members Steven Mnuchin and Maria Bell. That's Deitch in the purple up top, talking to Rudi Geinreich supermodel Peggy Moffitt. And that's Maria on the right-- whose hair looks fantastic, wow--talking with art book publisher and Chemosphere resident Lauren Taschen. Who, as Women's Wear Daily reports, "made her own fashion statement with a 'Team Jeffery' T-shirt."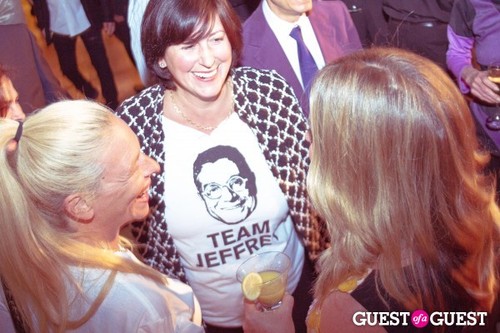 WWD continues
Apparently an anonymous donor sent a box of the shirts over to MOCA in support of the embattled museum director. Deitch even posed with women wearing them in front of the giant plaster Baguette in the courtyard.
Apparently. So much journalism embedded in that single word. Did these women get their shirts from MOCA? Did someone from MOCA bring a stack of shirts to hand out at someone else's event?
To answer these exciting questions, I looked through several hundred images from Baguettemania, and it appears Mrs. Taschen was the only member of Team Jeffrey to be rocking this particular look. I can't guess where WWD might have gotten that report.
Instagram Update: I have learned the Team Jeffrey shirt was discussed in the social media coverage of Baguettemania, and that Deitch cheerily said the shirts were made by "a street artist" as a gift. Which is very thoughtful. And also gives us a chance to reflect on the difference between anonymous and unleaked.
INSIDE Maxfield + Fendi's Baguettemania with Jeffrey Deitch, Mena Suvari & James Goldstein [guestofaguest, thanks @theodoreart]
See this and four pages full of other images by Filip Milenkovic from Baguettemania at Guest Of A Guest! [guestofaguest.com]