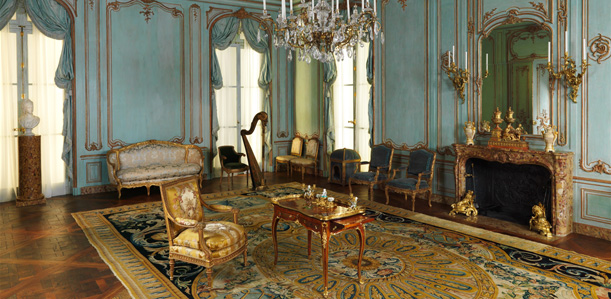 We took the kids to the Met yesterday, and in one of the period rooms in the Wrightsman Galleries, which I'd probably been in a hundred times, at least, one kid goes, "Is that a dog house?"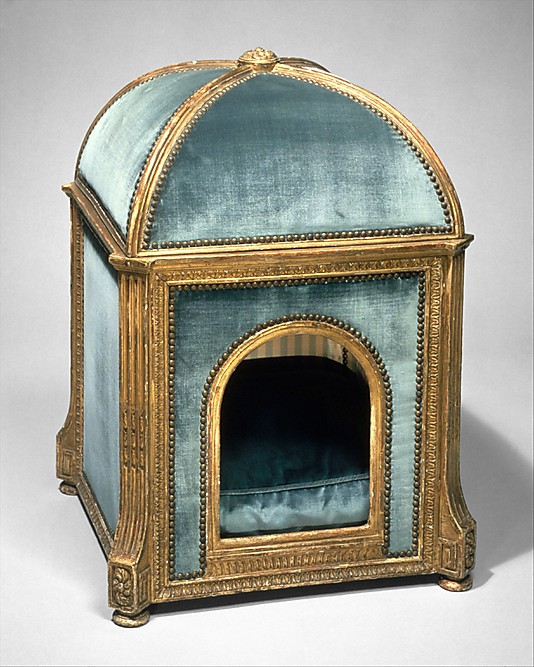 Why yes, yes, it is, and not just any dog house. This kennel, carved in the 1770s by Sené in gilded beech and pine and upholstered in silk and velvet, is stamped GARDE MEUBLE DE LA REINE. It is Marie Antoinette's dog house. One of just three pieces of furniture belonging to the queen in the Met. The Wrightsmans bought it in 1960, but didn't give it to the Met until 1971. Guess they wanted to use it for a while themselves.
But wait, Aestheticus Rex has a post about two other 18th c. dog houses in the Wrightsman collection--and a mystery. These two were apparently part of the Wrightsmans' gift to the Met, but were then returned to the donors. [To be sold in 2010 at Sotheby's, the hook for AR's post.] And there is some curatorial ambiguity about the provenance of the above house, for which research is apparently lacking, but which nonetheless remains on view. Decades or centuries later, the gossip of the court continues on blogspot.
Dog Kennel, c 1775-80 [metmuseum.org]