It's not quite like whipping out your copy of Lolita at the playground, but it sometimes feels weird to read Gravity's Rainbow "in public." Can't say if it's the book itself, which is rather unsettling and is shot through with Strangelove-ian absurdity; my used paperback copy (which I sought out for instant authenticity, as if I pulled it off that cinderblock bookcase I apparently had in apparent grad school); the conspicuous tape job (I was clearly the first person to crack the spine. Documenta packing tape ROCKS, by the way.); or general marginalization anxiety (Anthony Lane, quoting and reviewing Mason & Dixon: "'What we were doing out in that Country was brave, scientifick beyond my understanding, and ultimately meaningless.' He sounds like a reader of Thomas Pynchon.").
1. In the middle of a crowded contemporary art auction at Christie's. (Just during the lulls, the Bleckners and the Basquiats).
2. At Singin' In The Rain, which I found to be kind of corny. Or is it just me? Wendy Wasserstein loves it and claims it's not "cloying or campy." In some moments, the saturated colors and weightlessness prefigure Jacques Demy's Umbrellas of Cherbourg, which I like much more (and which turns out to be anything but weightless).
The Comden & Green "Moses Supposes" song is pretty good, though, possibly because it tries even a little to fit into the story. And I came away really admiring the long, near-stationary takes during the musical/dance numbers, the "master-master", if you will. It's the diametric opposite of Moulin Rouge (110+ edits/min in songs). I'd like to reference/adapt this in the Animated Musical, and I think it can work well, as more than just historical homage.
Long choreographed shots of musical scenes live on in the auteur-y crane/steadicam shots directors show off with (cf., The Shining, Touch of Evil, The Player, Goodfellas, Boogie Nights, Bonfire of the Vanities even).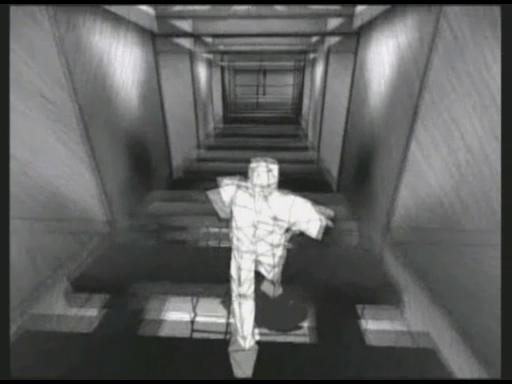 Video games have turned this symbol of technological virtuosity, literally, into child's play: first-person shooters are long, unedited takes by definition.
Machinima
takes advantage of the game "camera" to turn a programmable/alterable game engine into a virtual movie studio. Somewhere in between Scorcese, Anderson Lara Croft is my story,
Singin' in the Rain meets Quake III
.