Doing the family thing in Hawaii for a while. greg.org implications:
I wrote a script on the plane, a new short tentatively titled Souvenir January 2003, which'll be a one-day shoot when I'm at Sundance.
(No, that's not an early indication of anything, but I figure it's high time to go anyway. And besides, the snow prospects in January are already pretty good.)
The third act of the Animated Musical gets attention in the mornings, 5-7:00, thanks to jet lag. Made real progress on one of the characters, who makes his crucial appearance at the end. It's very interesting, in a Hayao Miyazaki demon boar (Princess Mononoke)/bathhouse demon (Spirited Away) animation tour-de-force kind of way. Miyazaki portal, Nausicaa.net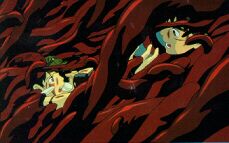 Princess Mononoke, Hayao Miyazaki, image Nausicaa.net
Reading Scorsese on Scorsese collected interviews published in the wake of Last Temptation of Christ, the scandal for which sets too much of the editorial tone of the book. Also in the queue: Thucydides (as soon as I finish Gravity's Rainbow). That reading list not pretentious-sounding enough for you? Wait till I do the animated musical version of Finnegan's Wake.
Gauging which north shore hike to go on, my wife said, "That's like walking from Columbia to Times Square and back," which amused the locals.
Posting will be a little spotty for a few days.