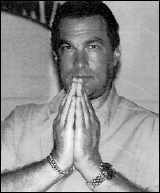 Mafia, Mafia, Mafia. Against my better judgment, I feel compelled to bring up Steven Seagal, aka "The Action Lama," once again. He's suing (again) the mafia (again) for harassment (again), only this time, it's not the (via Staten Island) Italians, but the Germans. According to his suit, visible at The Smoking Gun, Seagal is being extorted and threatened with a "ruined reputation" for unspecificied damage he inflicted on a Berlin villa he rented while shooting Half Past Dead (that's the title, critical appraisal, and box office performance, btw). In case the extortion charge doesn't hold up, SS (d'oh!) added some more:
Fraud – Seagal's reputation suffered from unwittingly associating with "nefarious underworld figures"
Infliction of Emotional Distress – The defendant/owner of the villa "broke into and entered" the villa during the lease period.
Breach of Lease – The defendant "refused to provide any sheets and bedding," apparently contradicting the NYTimes' claim that "(Tert�n Chungdrag Dorje) slept here" increases property values.
Unfortunately for Mr Seagal, he undoes his own case in the filing: "The great success of his movies attests to the quality of Plaintiff's reputation in the movie industry and in the public."