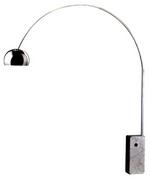 Curbed has a warning for NYC apartment hunters: "Fear The Lamp."
Apparently, ARCO lamps–designed by the late Achille Castiglioni–are turning up in real estate listings with alarming frequency. [One possible reason: they're freakin' heavy. I had a chance to get one from a b-school friend's apartment (where, according to the landlady, it had been abandoned many tenants before), but the solid marble block base was too unwieldy to carry down three flights of stairs. I'm sure it's still there.]
Apartment buyers, sure to ask if The Lamp conveys; if it does, you may get a price break. But if you're the guy in the apartment without The Lamp, a vintage 60's version can be found on ebay or wherever for around $1,000-1,500, about half the cost of a shiny new one.