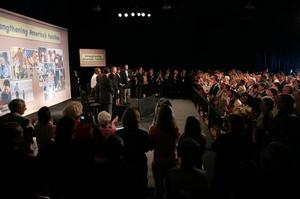 On Monday, the Bush-Cheney show had (yet another) location shoot in Ohio. Exec Prod. Karl Rove is guarding the script closer than a CIA agent's identity, it appeared to be (yet another) Bush Liking Black People scene.
The production company has published some pictures from the set on their website. They reveal some useful tips for imagemakers who need to utterly transform an alcohol and drug treatment center into a TV-friendly black-box studio.
First, the basics:
Design backdrops with both wide shots (banner and happy collage) and tight shots (image closeups, and/or tiny banners illegible at a distance)
Position backdrops in line with both TV and print camera pens.
Wrap crowd around for alternate background, as needed
DON'T FORGET: NO MATTER HOW TIGHT, *BLACK PEOPLE IN THE SHOT* IT'S A DRUG AND ALCOHOL TREATMENT CENTER, AFTER ALL.
Rarely Ideas:
Rig even lighting on the set; light the audience for wide shot; spot the backdrops.
Lay matte-black flooring on set.
Paint all chairs and railings matte black.
Add matte black screen to avoid (unwanted) up-the-skirt or bulge shots.