I've admired Hirokazu Kore-eda's films since seeing Maboroshi at New Directors/New Films in 1995. His 2000 film, After Life and Agnes Varda's The Gleaners and I were what finally stoked the fire under me to get me finally start making movies myself.
Of course, After Life's got much more recommending it than inspiring my ersatz film forays. It shows the development of Kore-eda's highly evocative documentary approach to narrative fiction, for example, a technique he refined in the understated–and underdistributed–Distance.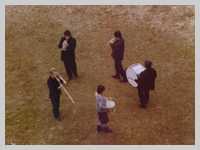 This, combined with his expert direction of non-professional actors, resulted in the masterful–and Cannes-winning–performances by his child actors in Nobody Knows, which will be released in the US in January.
Anyway, it's all reason enough for The Reel Roundtable to invite me to introduce a screening of After Life on Monday, December 6th, at the Millenium Theater. It's part of the Roundtable's Blogs and Film series, which is organized by the incisive and intrepid Elizabeth Carmody.
When: Mon., December 6, @7:30pm
Where: Millenium Theater (66 E. 4th St, betw. Second and Bowery)
How Much: $5
More Info: Reel Roundtable [Reelroundtable.com]
Who's Crazy Enough To Ask My Opinion: Elizabeth's blog at IndieWIRE
Related links:
Midnight Eye's interview with Kore-eda.
Kore-eda's official site.