One of my big regrets was not urban scavenging the old Bendel's when I had the chance. My office used to be above the store during the gutjob renovation that followed the store's purchase by Columbus-based The Limited. See, a friend's mom had worked there way back in the day as a cosmetics buyer, so she remembered that all the cast bronze vitrines, counters, and stools had been designed by Diego Giacometti. Dozens of them. They'd been painted over and knocked around for decades, ignored, seemingly forgotten, now sold off to some Ohioans, who called in the demolition crews.
I watched the dumpsters, but never tried to seek them out, fearful, I guess, of tipping off anyone to their provenance and value. Besides, what was a 23-year-old guy supposed to do with 18 8-foot-tall, bronze-and-glass vitrines and 36 bronze barstools? I've never heard or seen a peep about the stuff since; these dressing table stools are the closest I've seen, and they're short.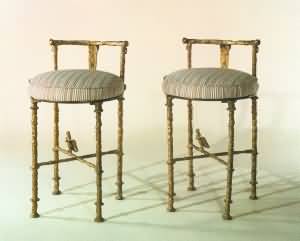 Anyway, the demolition of another interior and the impending dispersion or destruction of a host of unappreciated fixtures was on my mind one evening a couple of summers ago when I passed 2 Columbus Circle, Edward Durrell Stone's building that had held the NYC Visitors Bureau for many years.
In 2000, when it was still in decent shape, but largely unused, I'd actually considered trying to have our wedding party in the walnut-panelled, Central Park-balconied top floor of the building. [Another, slighter regret. Not having the party there, I mean. Not the wedding. Hi, honey!]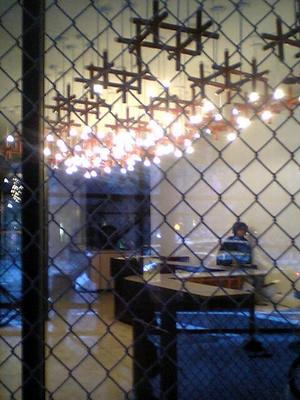 So seeing it fenced off, ready for demolition and transformation into The Craft Museum, the ceiliingful of sweet, Bauhaus-by-way-of-Pop-Minimalism light fixtures lighted up for one of the last times, I couldn't resist taking a picture.
The red lights remind me of a similarly shaped piece from 1966 in MoMA's design collection by Peter Hamburger [below, l] and a simpler, 1920 design by Gerritt Rietveld [below, r].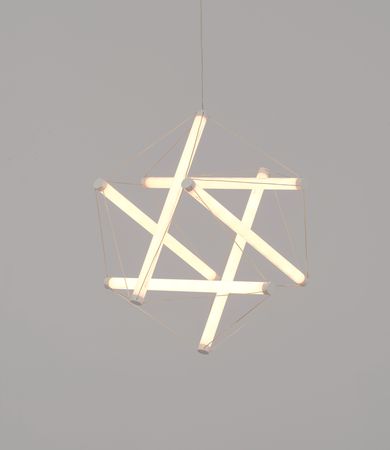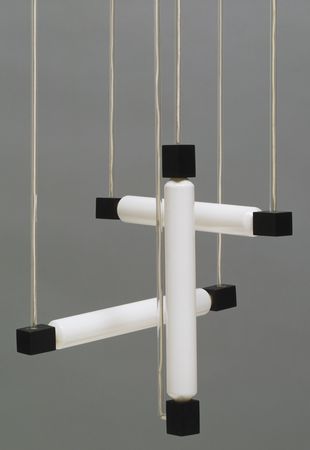 The architectural salvage industry has grown tremendously since the early 1990's, and 2 Columbus Circle's preservation and gutting was high-profile enough that these lights should have a better survival rate than the Giacomettis. Still, my impulse to go ask about them was quickly squelched. The security guard saw me and my phonecam and stormed over to the window, gesturing furiously at me to stop taking pictures from the street.
Related: a series of photos of lights and light-based art Tyler Green posted today on MAN.