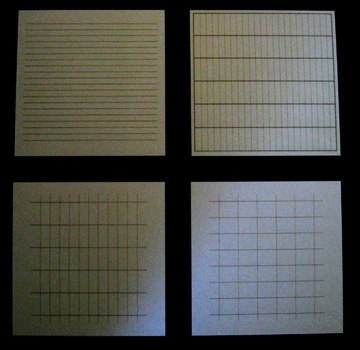 If anyone's life's work could have at once so little and so much to show for it, it's Agnes Martin. From Brian Droitcour for Artforum:
This brisk tour of Agnes Martin's career–forty years in twenty drawings–is anchored by On a Clear Day, 1973, a series of prints offering thirty ways to regard the square.
…
In the 1970s, Martin pared down an already spare vocabulary. These prints are a glimpse of her shifting priorities, and the drawings around them protract that glimpse into a lifelong panorama.
From the gallery's press release for the show, a little background:
In the late 1950's Agnes Martin's landscapes and biomorphic surrealist works transformed into abstraction and what would eventually become her signature examination of rectangular grids within a square format. Her work ranges from early tight grids to the opening up of forms to wider rectangles. Disillusioned with New York, Martin moved to New Mexico in 1967 and abandoned painting. When she resumed her work around 1974, the earlier primarily black and white palette modified to include monochromatic washes of subtle pastel colors, perhaps influenced by the New Mexico landscape. While Martin's abstract repetitive forms have been associated with Minimalist style, she considered Minimalism impersonal and over-intellectual, preferring her work to be characterized as Abstract Expressionist due to its more personal and spiritual nature. Inspired by emerging concepts of Taoism and Zen Buddism in the 1950's, Martin, like many of the Abstract Expressionists, sought a style that transcended the material world and spoke more of the mind and the experience of the sublime.
On A Clear Day was instrumental in Martin's own retrospective re-evaluation of her work and was apparently a catalyst of sorts for her resumption of painting in 1974. For details, check out Lynne Cooke's essay accompanying the Dia's exhibition of pivotal paintings from 1974 – 1979.
Though it might be tempting, in the absence of any apparent content beyond the grids, to investigate and catalog the variations and details that were surely deliberate decisions on Martin's part, Cooke argues that this is not what Martin was after when she began painting again:
her endeavor would not be to mobilize the viewer in a process of "looking for" but to immerse the solitary, stationary spectator in an indeterminate, luminous space, in attentive contemplation, "looking at."
Brian Droitcour reviewing "Agnes Martin, Works On Paper" at Peter Blum Soho trough March 15 [artforum]
Peter Blum Gallery Soho [peterblumgallery]
"To The Islands, Agnes Martin Paintings, 1974-1979 [diacenter.org]
[image via portlandart.net]