The Martin Kippenberger retrospective closed yesterday at MoCA, which means it's just a few weeks away from opening at MoMA, which means I'll finally be able to see one of my favorite-from-afar Kippenbergers in person.
The Happy Ending To Franz Kafka's Amerika is always fun. And I love the Metro-Net subway stairs and vents for the trains that connect the world–the NY-style ventilation grate in the front lawn of LA's Schindler House on Kings Rd still conflates those two cities for me.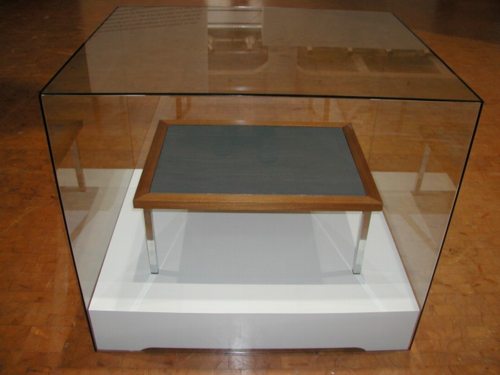 "Haven't you people ever heard of coasters??"
But the one I've been waiting to see is Modell Interconti. It's a coffee table that Kippenberger made in 1987, and the top is made from a Gerhard Richter Grau painting. Kippenberger bought the painting as a Richter, then sold it as a Kippenberger, promptly destroying–or at least disappearing–a significant percentage of its market value.
Though I'm sure he didn't take too big a hit. Richter's grey paintings have never been as pricey as his less boring work: the blurred photo-based paintings, the gloppy aerial landscapes, the hard color grids, the squeegees. Which is part of why I like the grey paintings so much; they can be so successful at eliminating the extraneous elements and letting you focus purely on the paint, the surface, the object. And the range is anything but boring. Those giant grey glass paintings at Dia:Beacon create a space as seductive and perceptually disorienting as any Serra.
Ten years after Kippenberger made Modell Interconti, you could get a slightly smaller Richter grey painting at the Armory Show for around $10,000. Which was probably the price of a major Kippenberger by then, too. So within a decade, Kippenberger had caught up with Richter's market. And now a major Kippenberger–like, say, Modell Interconti–is surely worth more than a small, demure Richter. At least it was pre-meltdown.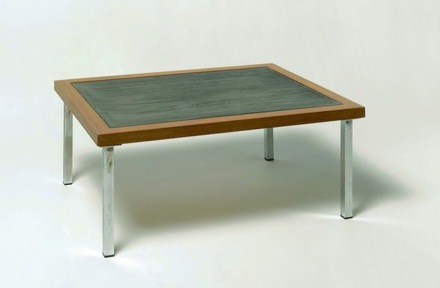 Modell Interconti, 1987, collection Gaby and WIlhelm Schürmann [image: swo.de, link broken (2016)]
The MoCA photo used by the LA Times is probably better. [latimes]
2016 update: Chin-Chin Yap's case study of the moral rights associated with Modell Interconti, from July 2009 [artasiapacific]