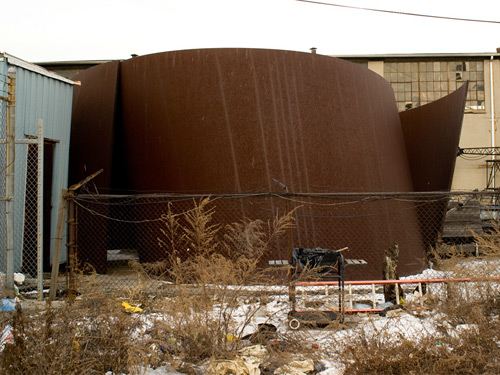 Someone is storing his Richard Serra sculptures along the East River in the Bronx. As massive, vertiginously curved steel plates are wont to do, they tend to stand out, and so they get noticed or discovered periodically.
Jake Dobkin spotted them recently, and posted pictures of one of the Serra sculptures behind a barbecue and a busted fence. It's a Torqued Ellipse [1] with the steel plates curled in a bit tighter than normal. Jan included a shot of the works on Google Maps, where they look nice sitting next to a collection of steel gas tanks. It appears that the other sculpture, a collection of six arced slabs in graduated sizes, is the disassembled–and ironically titled–Blindspot, presumably purchased from the artist's 2003 show at Gagosian.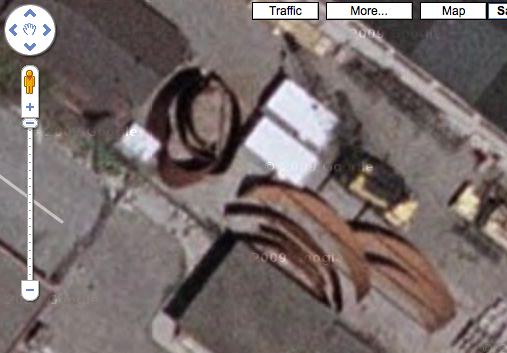 [Note to self and/or someone else: figure out how many Serras are visible on Google Maps? Former Dia chairman Leonard Riggio's got one parked on his front lawn in Bridgehampton; Wave is installed at the Olympic Sculpture Park in Seattle; Joe, the first Torqued Ellipse, is in the courtyard at the Pulitzer Foundation; St Louis also has Mark Twain, a much earlier Serra downtown; I'm sure the list goes on.]
The first mention I can find of these ersatz Bronx Serras is from a 2005 NY Sun story about redeveloping public park space along the waterfront in Port Morris. The lot owner, Curtis Eispert, whose main business is storing cranes, quotes the sculptures' owner: "He says, 'I love the way it rusts in the salt air.'" [Hmm, it also says, "One piece, a wide band of curved and rusting iron that sold for $2 million, sat on a flatbed truck waiting delivery." Could Serra be the "someone" storing his Serras in the city?]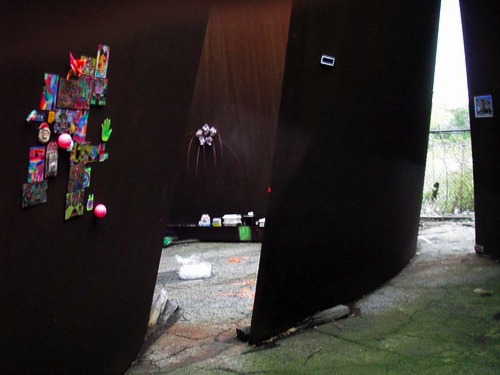 Eispert also mentioned an "'artists' loft'" [the Sun's scare quotes, btw] across the street, so "artists" must be aware of the Serras, too. Sure enough, In August 2006, a group of artists put on a show inside the Torqued Ellipse. Lan Tuazon and Marie Lorenz curated Invisible Graffiti Magnet Show, which consisted of magnetic works attached to the Serra for one Sunday morning. The exhibit persists, of course, as a press announcement and a flickr photoset. Above: works by the collective Dearraindrop and Matt Lorenz. Below: an LED throwie constellation by Virginia Poundstone.


Actually, ignore the "artists' loft"; after reading up on Marie Lorenz' fascinating Tide and Current Taxi project, I'm sure she spotted the Serras from the water, not the land.
Port Morris, scroll down for the Serra links [bluejake via x-ref]
Bomb the Serra! [triplediesel]
richardlovesmagnets' photoset [flickr]
[1] 2/17 update: OK, now we know it's a torqued spiral, not a torqued ellipse. photographer/filmmaker/Jake Dobkin accompanier Nathan Kensinger revealed that the sculpture is Bellamy, a spiral first shown in 2001.