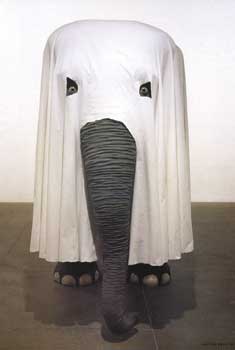 I know it deeply doesn't matter, and I feel kind of dickish pointing it all out, but since it involves the famously impolitic Daniel Loeb, I'll just say Carol Vogel's account of last night's Sotheby's sale was like one blind man trying to describe, not even an elephant, but a jpg of an elephant sculpture with a ghost costume thrown on top of it.
First off, Tobias Meyer says the market is "recalibrated." Which is a term of art used by tailors: "After Captain Dan's legs were blown off in 'Nam, I sent his trousers out to have the hem recalibrated."


Also:
The evening's star was Jeff Koons's "Baroque Egg With Bow (Turquoise/Magenta)," which went to Larry Gagosian, the Manhattan dealer who represents Mr. Koons. He paid $5.4 million, under its $6 million low estimate…it was being sold by Daniel S. Loeb, a hedge fund manager who bought it from the Gagosian Gallery in 2004 for an estimated $3 million.
But Gagosian had already been selling the Loeb egg; it was in the gallery's massive Moscow exhibit last fall. [It's even mentioned in the Sotheby's exhibition history.] The $5.4 million price sounds like a $4.5 million bid. Tobias would not have started off at 4.5, so presumably, one other person was bidding, what? 3, then 4? Or just 4?
The more sober market is now looking for staying power.
And one who fit that category is the German artist Martin Kippenberger. A 1988 self-portrait, in which he depicts himself as paunchy and middle-aged, was estimated to bring $3.5 million to $4.5 million. It was bought by Iwan Wirth, a Zurich dealer, for $4.1 million, but it still set a record price for the artist at auction. He has been the subject of a major retrospective that closed this week at the Museum of Modern Art.
The painting was being sold by Dakis Joannou, a Greek industrialist and it had what Sotheby's calls an irrevocable bid, meaning that before the sale, a buyer had already agreed to purchase the art for an undisclosed sum.
Except Wirth isn't just a dealer; he's Kippenberger's dealer, and Dakis is a major client.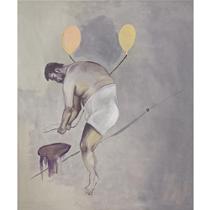 Also, it was only a couple of Tate and MoMA retrospectives ago that Kippenberger was being covered in the Wall Street Journal as the kind of artist hedge fund managers liked to take "positions" in, then run the prices up to increase the value of their "portfolio." Loeb, not coincidentally, has boasted in print of owning more than 200 Kippenbergers.
And before the market had its chair recalibrated out from under it, "irrevocable bids" were known as "third-party guarantees," and I have never seen an accurate account of how they were used or even how they worked. Auction houses, especially Phillips, but the others, too, set up third party guarantees all the time, and not just to ensure a successful sale, or to hedge the auctioneer's risk, but to reward and woo collectors with, literally, money for nothing.
When a house guaranteed a work that didn't end up selling at auction, it was "bought in," and became the [somewhat diminished in the eyes of the market] property of the auction house. But when the auctioneer arranged for a collector–or dealer–to guarantee a work, it sold, whether anyone besides the guarantor "bid" on it or not. On the one hand, the practice helped smooth out uncertainty from the transaction and to preserve the perception of an artist's market success.
On the other hand, the third-party guarantee also removed at least one interested, qualified buyer from the market for the piece, which can be enough to influence the outcome of the sale. These arrangements were disclosed only inconsistently, and often not at all. [Sotheby's says its irrevocable bid disclosure policy took effect in October 2008.] To anyone outside the auction house, it would be all but impossible to know if a work "actually" sold, or if it was simply brokered on the auction stage from the seller to the guarantor. [Which is obviously a sale, I know, but it's not the kind of liquid, open market transaction the auction house purports to facilitate.] Sotheby's irrevocable bid policy allows the guarantor to bid beyond the guarantee, but it doesn't require any disclosure of the amount of the identity. If Wirth were both the irrevocable bidder and the winning bidder–and I have absolutely no reason to think he was or wasn't–Sotheby's policy does not require that disclosure.
Meanwhile, in the event another bidder bought the piece, the house would split its commission–and in some cases I heard of, the entire difference between the guaranteed price and the final price–with the guarantor. I heard of some collectors receiving as much as $500,000 for, essentially, agreeing to but not buying the work.
Also, I guess the Times is waiting for gay marriage to be legalized in New York before it properly identifies Mark Fletcher, the guy who Tobias Meyer sold that Dan Colen painting to, as his own husband.
Don't get me wrong, I'm totally fine with literally half a dozen men selling work back and forth to each other as many times as they like, and I wish them all happiness and rainbows. I just don't pretend it's the art world, or even the art market. And in that respect, I differ from my esteemed colleagues at the Times.
update: Sarah Thorton got the sale right at Artforum, right down to the ignoring of Dan Colen.
update update: Just drop everything and read the report of the International Herald Tribune's man in Bizarro Art Market Land, Souren Melikian. "Optimistic Buyers Push Up Sales of Contemporary Art," is a fascinating, blow-by-blow account of the dismal, deflated sales what's flitting across Melikian's blissed out, untethered mind as he flipped through the first three pages of the auction catalogues:
An uncanny optimism is driving the art market. Consider the happy mood that came forth this week at the New York contemporary art sales. These went like a dream, which in this high-risk area that filled some professionals with misgivings is remarkable.
On Tuesday, Sotheby's sold 39 lots for $47 million, leaving only nine works unsold and posting an 81 percent success rate. Amazingly, three world auction records had been set by the time the session switched to the eighth lot. Was it their importance? Hard to tell — no one has yet defined quality and importance criteria in plain English concerning politically correct contemporary art as acknowledged at auction and in leading galleries.
Deep! Someone get that man an editor, a buyout, or an agent, tout de suite!
At Sotheby's Contemporary Art Auction, Even The Star Is Dimmed [nyt]
Hedge Fund Experts Put Art In Deal [wsj, 2005, via realestatejournal.com]