Reductivist abstraction and pixelated photo-appropriation? If only it could involve a short film, an Ikea table, or a White House stage set, I could wrap this whole blog up with a bow and go home.
From Peter Blum Editions' text accompanying Sherrie Levine's 1989 print series, Meltdown:
The twelve-color woodblock prints in the portfolio Meltdown have been created by Sherrie Levine by entering images, after Duchamp, Monet, Kirchner, and Mondrian into a computer scanner that spatially quantizes and transforms these images into the minimum number of pixels, thus determining each of the colors in the four prints.
after Duchamp et al, means these are pixelated prints based on Levine's own photographic reproductions of photoreproductions of [clockwise from upper left], a Monet's Rouen Cathedral, Kirchner's Potsdamer Platz, Berlin, Mondrian's Composition No. II, and Duchamp's L.H.O.O.Q..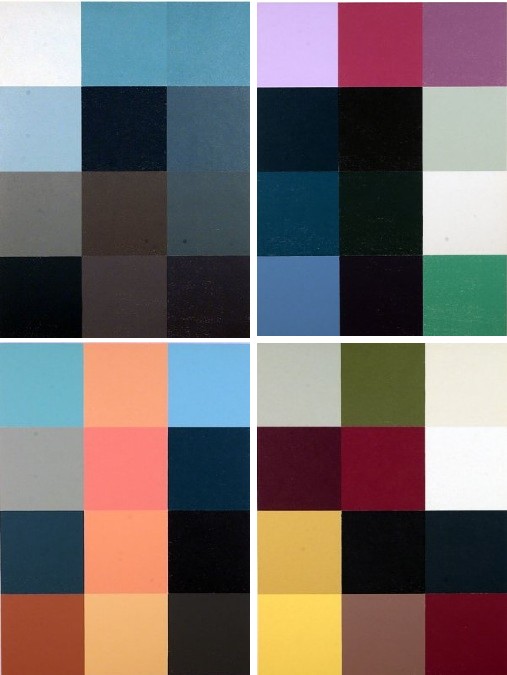 I'd started tracking down links to the "original" works, Levine's source paintings, before realizing that kind of missed the point. In fact, as with her earlier rephotographic series, Levine's source images are reproductions in books. In 1987 she showed 40 photos, all 1982, of reproductions of works by Monet, Kirchner, and Mondrian at the Wadsworth Athenaeum. [pdf of the exhibition brochure].
For one contemporary reviewer, Levine's use of a computer, her deployment of algorithmic color averaging, and the whole "pixel" concept gave Meltdown the whiff of suspicious techno-novelty. I obviously think it's a fresh and worthy approach, which now makes me wonder a bit. I'm also kind of fascinated by her use of woodblock, which was either a 4- or 12-color process. Either way, it seems an important, digital-to-analog color translation step is being largely ignored.
What's also remarkable is that Phillips ran the After Mondrian image on the cover of the catalogue for it editions auction last fall, even though the suite for sale was an unsigned, undeclared set outside the edition [35 + 10AP], which was marked simply "WKSHP 1/2." It still sold for $12,500.
Levine made at least one other pixelated print series. Equivalents: After Stieglitz 1- 18 are greyscale inkjet prints from 2006, and were shown at the last Whitney Biennial.