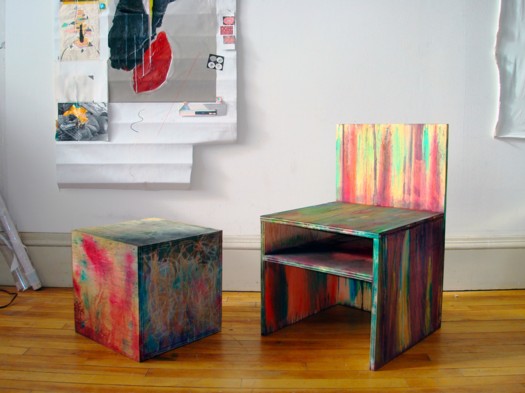 Not sure what this psychedelic Juddy chair/sculpture colabo they're doing with Eric Timothy Carlson is about, but anything RO/LU does has my undivided attention, even if they didn't quote my favorite Joe Bradley review. [via rolu]
[2020 update: RO/LU alumnus Matt pointed out that Frieze has deleted Chris Sharp's 2008 review of Joe Bradley's CANADA show, so here it is, exhumed from the Internet Archive [CW: offensive ableist slur]
This will be a very un-politically correct piece of art criticism. The faint of heart are encouraged to stop reading now. That said, I was recently impressed to hear a New York artist criticize, with distinctly un-PC disdain, a fellow artist for producing work that was 'not retarded enough'. 'Retardation' being the acme of advanced art and any un-self-conscious betrayals of earnest intelligence an act of philistinism, it is as if, over the course of the past five years, a kind of compulsory Dada has integrated itself into the fabric of a good deal of New York art-making. The higher the 'durr'-factor, the better, apparently, the art. And with this exhibition at CANADA, entitled 'Schmagoo Paintings', Joe Bradley has thrown down the 'durr' gauntlet. Because it doesn't get much more retarded than this.

Departing from the slightly less 'durr' primary-colour minimalist figures he showed at the Whitney Biennial this year, Bradley has produced an exhibition of seven mid-size 'paintings' on unprimed canvases (all works 2008). Six of the seven works bluntly feature stick figures, grease-pencil drawings which can be read as: a human figure, a fish in an open mouth, a cross, a Superman symbol, the number 23, and a line towards the bottom of a canvas (a deadpan mouth?) – while the seventh, titled Untitled (Schmutz Painting), bears nothing but the dirt from the floor upon which it was stretched. There is, incidentally, a lot of schmutz, for the same reason, on the other works as well.

One thing that can said about Bradley's work is that it responds to the art-fair attention-span of our time. It can (and should) be consumed in no less than the time it takes to walk in, chortle, and walk out of the gallery. When Martin Barré (a very generous reference) did just as little with white canvases and black spray paint in the early 1960s, it was radical and even beautiful. But here and now with Bradley it is just plain dumb, though that is the point. Whether I, or anyone, likes it or dislikes it is actually beside the point. Which is also very much the point. This kind of work wields the uncanny ability to render all who enter its orbit complicit. It's a kind of 2008 Lower East Side counterpart to Jeff Koons –  though rendered much more poorly. Squarely operating within a paradigm of post-sincerity – it is neither sincere or insincere, having transcended such issues – its mere existence acts as a cerebral black hole, engendering critical paralysis. Any possible reaction you may have to it has been foreseen and theoretically integrated into the work, such that reacting is vain. Whether you like it or not, you're a fool. And if you profess indifference to it you're likewise a fool, because such painterly antics require a stand that no one can make. It's like a work of high modernist fiction – Borges, or Cortazar perhaps – in which you realize that you are part of the plot, but by the time you do – standing in front of the painting or reading this review – it's too late.