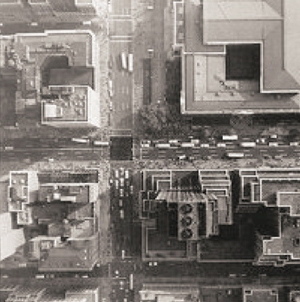 Andrew Russeth has a great post about the making of Robert Irwin's Black Plane. As part of the Whitney's 1977 survey of the artist's work, Irwin had the museum staff paint the intersection of 42nd St & Fifth Avenue, a certain heart of the city, with blacktop sealer. The image above is an aerial photo from the Chinati Foundation newsletter, 2001, which accompanied an interview of Irwin by Marianne Stockebrand.
It, along with the date of the Chinati publication, December 2001, reminds me of a proposal for the rebuilding of the World Trade Center site that Ellsworth Kelly made in October. In early 2003, after seeing an aerial photo of the site in the Times, Kelly painted a green trapezoid as a stand-in for the large grass mound he envisioned, and sent his collage to Herbert Muschamp. The artist also noted that other artists he'd spoken to, including Joel Shapiro and John Baldessari, also thought that nothing should be rebuilt on the WTC site.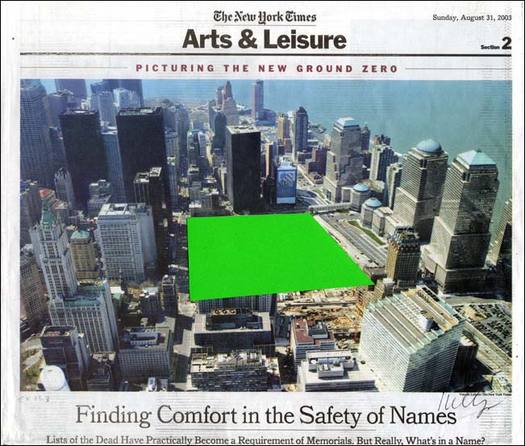 Muschamp arranged for Kelly's collage to be donated to the Whitney.