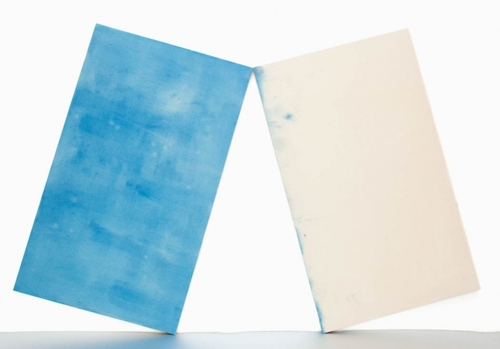 My Suitor, Matt Connors, image: vwberlin
FInally, images of Matt Connors' show, Line Breaks, which just opened at VeneKlasen Werner in Berlin.
I've slowly/recently come to find his work rather captivating, and after he posted a teaser image or two of the Berlin show on his blog, I wanted to see more. Actually, I'd love to see it in person.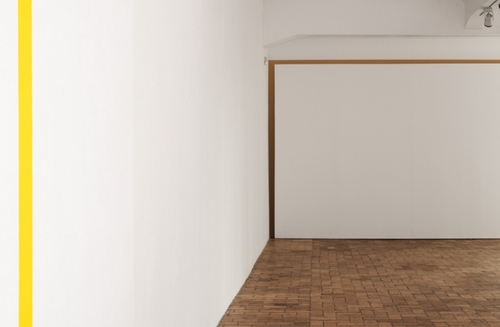 Second Wall for Jack Spicer, Matt Connors, image: vwberlin
It reminds me a bit, especially this large, wall-sized piece/installation, of a wonderful Rachel Harrison show I saw in Paris at Chantal Crousel in…1999? 2000? 1999. It seemed to be a situation, a year-end group show, where shipping her more typical large-scale sculptures was ruled out.
So instead, Rachel created large, wall-scale sculptural interventions on-site. I read them as slightly atypical, experimental, site-specific in ways that her work hadn't really been before then.
When I mentioned to her how nice the show looked, she sounded glad, and a little surprised. I got the feeling that an out of town show carried a different, distanced sense of accomplishment; without the feedback or dialogue, it could seem as if it hadn't happened.
Anyway, my rambling reminiscence was obviously not planned. It's just that the experience shortfall that emerges from not being able to see a particular show in person can be strong sometimes, and this is one of those times.
UPDATE: "wow. we are on a total matt connors freakout here at the rolu studio." Amen to that. Also, RO/LU has the pictures from Matt's other Berlin show [!] at Luettgenmeijer. More great painted prop works.
Line Breaks, Matt Connors, through 22 October [vwberlin.com]
also, another show I'm missing. BUSY : Matt Connors, "You're gonna take a walk in the rain and you're gonna get wet," at Luettgenmeijer through Nov. 5 [luettgenmeijer.com]
Matt Connors at Canada [canadanewyork]