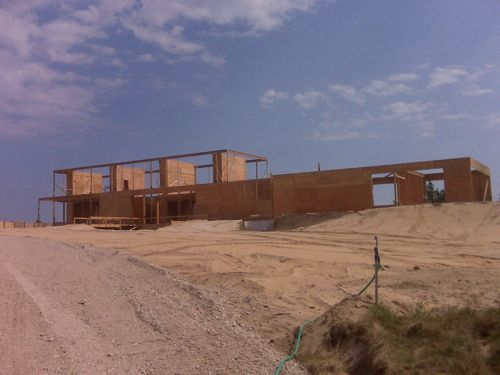 image of CK 0.9, the plywood mockup, c.2009, via sara hart archpaper
Where to start?
Mr. Haverland and Mr. Klein began meeting two to three times a week and bonded over a love of architects like Mies van der Rohe, Richard Neutra and Joe D'Urso.
…
Danish modern chairs by Poul Kjaerholm are in one of the sitting rooms downstairs. Other vintage pieces by Jean Prouvé and Le Corbusier have arrived.
…
After that, a life-size mock-up of the two-story house was built of plywood on the property. That project was so substantial that it required a building permit from the Village of Southampton and wound up costing approximately $350,000, according to two sources close to Mr. Klein. So that Mr. Klein could get an even better idea of what it was to be like, the furniture he had in mind was created out of foamcore.
…
"I think it's going to change the way we think about houses in the Hamptons," said Sam Shahid, an old friend of Mr. Klein's who has worked on many of his most famous ad campaigns. "Like when Charles Gwathmey built his house, and it changed everybody's idea of what the future was. I can't wait to see it."
First, Mies, Neutra and d'Urso?
And also, Kjaerholm, Prouvé, and Corbusier? Just no. No, no, and WTFLOL no.
if Calvin really wanted to change the way we think about houses in the Hamptons, he'd have stopped with the plywood mockup. Can you imagine how awesome that would've been? He could build a new one every spring. A new architect every year. He could spend a million dollars a year for life, on career-making commissions and still come out ahead. It would have been marvelous.
Instead we end up with just another $75 million OCD dream house.

The House That Calvin Built [nyt]
Image: Sara Hart/Archpaper
[2020 update: after all that Calvin sold out for $100m to Ken Griffin, who now has his eleventh nine-figure pandemic safe house or whatever.]