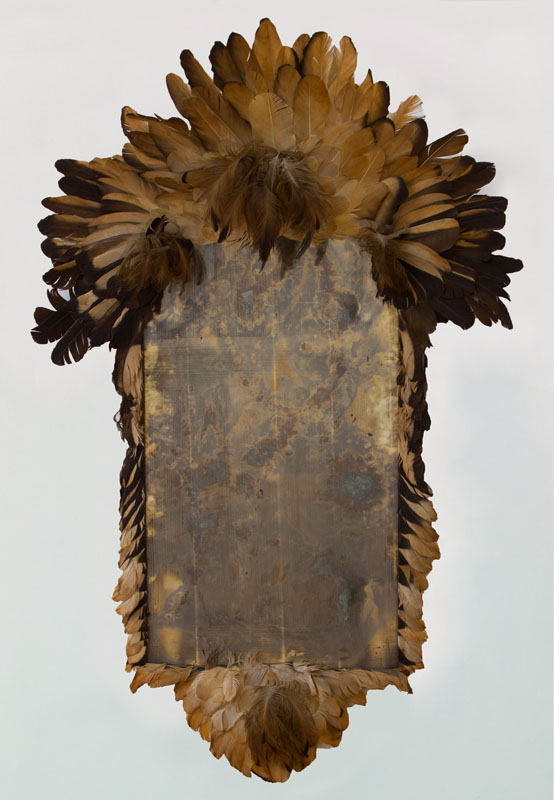 Untitled (I'll Be Your Mirror), 2016, 70 x 46 in., feathered mirror by Bill Cunningham
The end credits for Richard Press's documentary Bill Cunningham New York run over Nico and the Velvet Underground's langorous, "I'll Be Your Mirror."
In the 1950s, before he took up a camera and changed the world, Cunningham designed hats for his own label, William J. He also created some unknown number of objets d'art and furniture. Well, at least one piece is known. The fashion illustrator Kenneth Paul Block considered this feather-covered mirror by Cunningham to be one of his most prized possessions.
It is large, 70 x 46 inches, and has an extraordinary patina. It holds the wall like a 50s Bruce Connor or Rauschenberg. I put #painting in there, but maybe it's #combine instead. Oh wow, I just found this photo of Merce Cunningham dancing Aeon (1961) in a pair of feathered chaps Rauschenberg designed.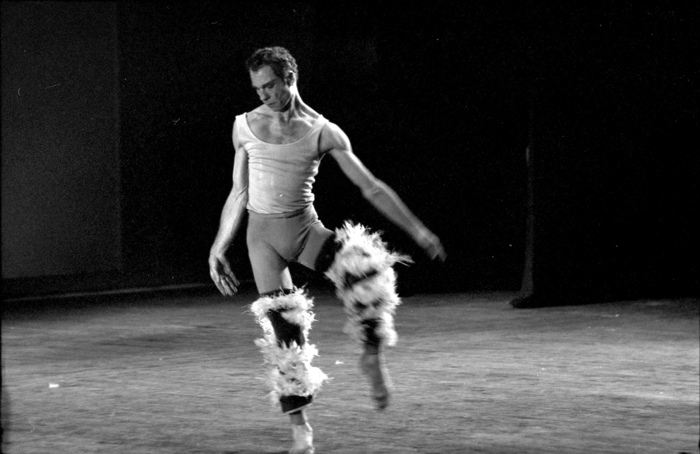 Merce performing Aeon (1961) in Tokyo in 1964, photo: Yasuhiro Yoshioka/Sogestu Foundation, via walkerart
Block passed away in 2009 and his partner of over 50 years, artist and textile designer Morton Ribyat, died in March. If you're interested in buying this work, email or call me whenever you're ready. If you'd like to take physical custody of it, though, you'd better move fast. UPDATE: And have more than $13,000. Wow.
INFLATION UPDATE As of 2017 we know where the mirror is. For sale here for $60,000.
Sept 23, 2016, Lot 377: AN IMPORTANT FEATHER-MOUNTED MIRROR, DESIGNED AND CREATED BY BILL CUNNINGHAM [stairgalleries]
Previously, related: Untitled (Joan Collins Toile de Jouy), 2015