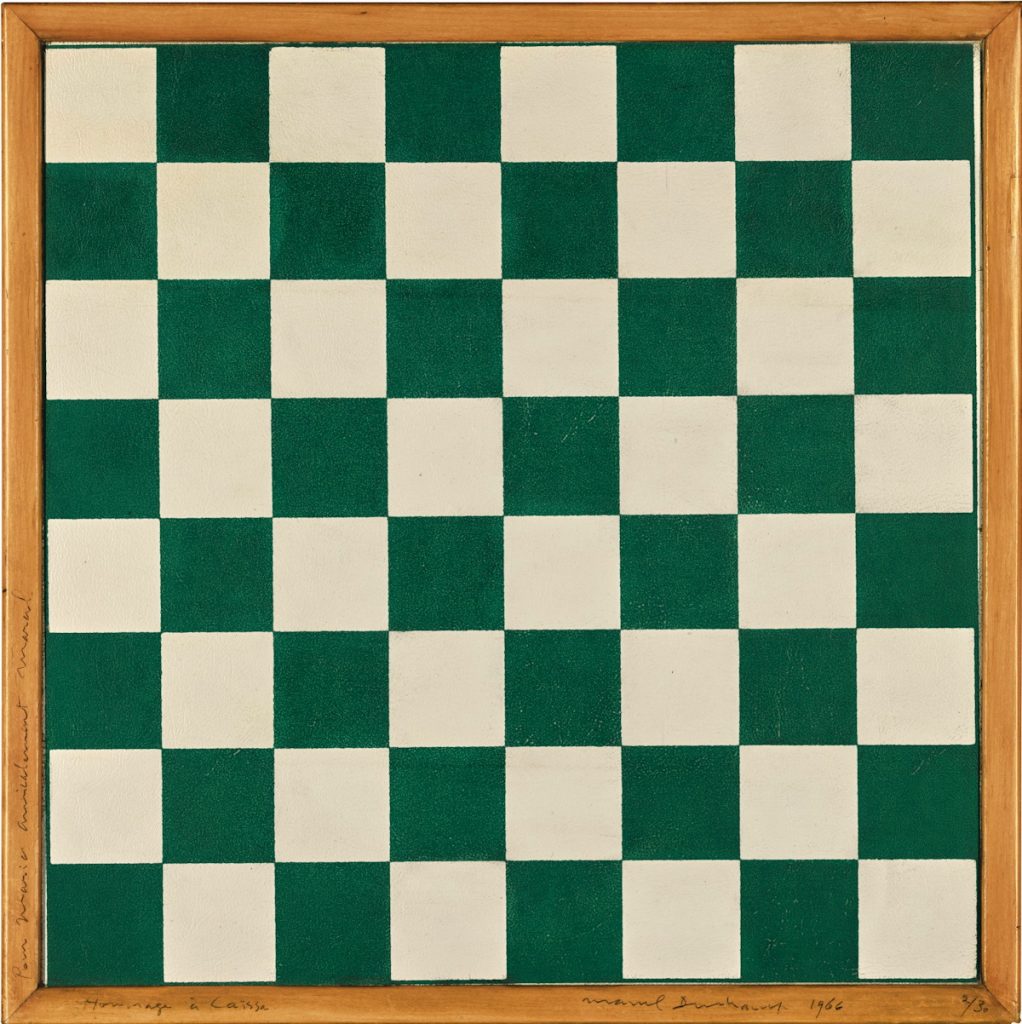 For a guy who'd supposedly gave up making art to play chess, Marcel Duchamp made an awful lot of art. Maybe making a readymade edition of a chessboard for a chess-themed fundaiser group show somehow didn't count. It definitely sounds like it didn't sell.
Asked in 1965 to help raise money for the American Chess Foundation, Duchamp organized "Hommage à Caïssa," after the fictional patron wood nymph of chess, which opened at the Cordier & Eckstrom Gallery in New York in February 1966. [A year earlier, Cordier & Eckstrom had staged the largest Duchamp exhibition to date, a 90-object show, most from a single collection, that toured 16 cities in four countries over four years.]
"More than any other artist of his generation," Francis Naumann wrote, "Duchamp was aware that his signature carried the magical power to transform an object of relatively little value into a work of art." He was constantly dodging or finessing people at openings who approached him with things to sign–including the non-deluxe editions of his exhibition catalogues. For the chess show, Duchamp created a readymade chessboard in an edition of 30. I've seen it called just Chessboard, but mostly it's titled Hommage à Caïssa, which is what Duchamp wrote on the frame.
On the frame of at least one. Though an edition of 30 was designated, Arturo Schwarz says "fewer than 10" were actually issued. Only two turn up online: one, 3/30, was Schwarz's, and it went to the Israel Museum. The other is 2/30, which has a dedication to Maria. Could that be Maria Martins, Duchamp's mistress, and the body model for Étant donnés? Who else would get a lower edition number than the artist's most important dealer?
Anyway, it's coming to auction for the second time in a decade. Presumably there was a 1/30, too, and 3 is less than 10, so Schwarz isn't wrong. But either way, it doesn't sound like Duchamp's magical powers to transform  chessboards into art transformed any into money. For Chess. But if two dealer flips in seven years can take this piece from EUR 42,000 to EUR 200,000, I guess we'll know where the real magic lies.
26 Feb 2019, Lot 47, Marcel Duchamp, Hommage à Caïssa, est. 180-250,000 GBP [sothebys]
Previously, kind of related:
Chip of Fools, or How Many Fountains Are There? And Another One. And Another One. And