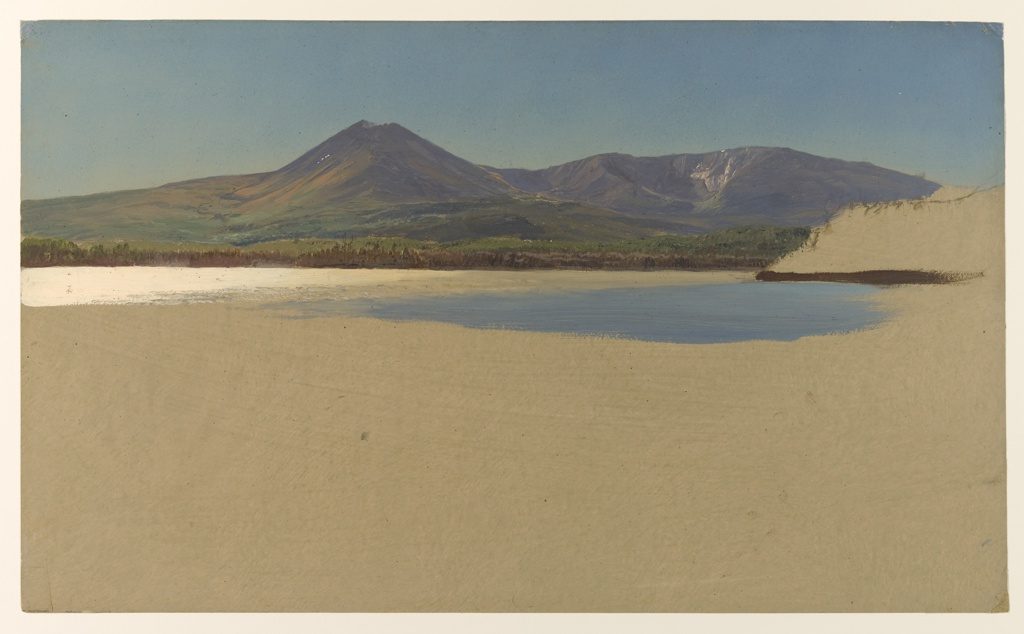 Come for the sketch Frederick Edwin Church made of Mount Katahdin, but stay for the sketch Frederick Edwin Church made of Katahdin Lake.
When he tweeted it today, Tyler Green said that was one blue brushstroke, and the beach was one white one. Staring at the zoomed in jpg, I am not sure. The white could be one deftly twisted stroke, but the blue looks like it it probably a few. In any case, it is just beautiful, and not the kind of thing you [I] expect from Church.

Inspired by Thoreau, Church made several trips to Katahdin between the 1850s and 1880. This sketch was likely painted before 1878, but after 1856-60, which is when Church made a stencil of Katahdin and the surrounding landscape as seen from across the lake. Because the mountain was outlined with the stencil.
The Cooper-Hewitt acquired over 500 paintings and 1500 drawings from Church's son in 1917, including at least two made from the stencil, plus the stencil. Which is fantastic, but not as great as that lake or that beach.
Object of the Day: Cut Out Katahdin [cooperhewitt.org]
Church, Drawing, Katahdin Lake, Maine
Drawing, Cut-Out of Mount Katahdin, 1856-60
Previously, somewhat related:
Ellsworth Kelly postcards, especially the St. Marten Landscape
Roy Lichtenstein's Prop For A Film