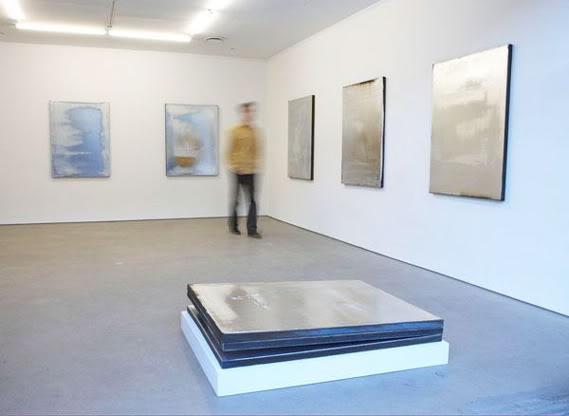 Jacob Kassay's silvered paintings appeared in early 2009, "elegantly abused luxury goods" whose distorting mirroring surfaces were instantly desirable to collectors. Then their glinting allure proved irresistible to financial speculators whose only lesson from the recent implosion of the global financial markets was that they'd never face any consequences.
Then and now, Kassay worked through the wave of flipper interest as it crested, crashed, and inevitably moved on to swamp the next young artist's practice.
The untitled work at the literal center of the Eleven Rivington show comprises three silvered canvases, separated slightly by an unseen rock, resting on a wooden plinth.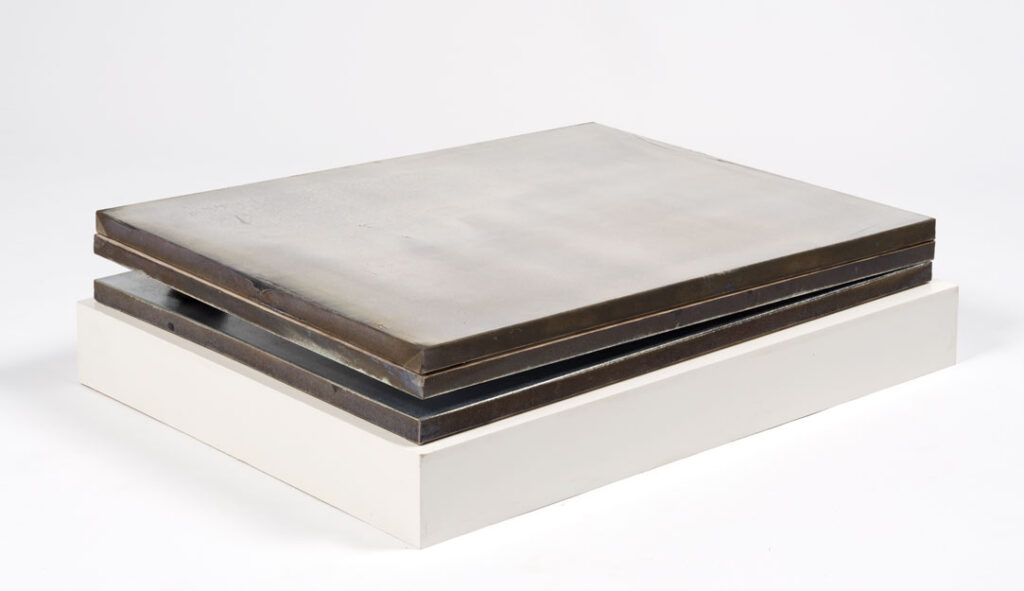 According to LA Modern's provenance, it has changed hands once; the original 2009 buyer (from Florida, save that sales tax!) sold to someone in Los Angeles, who is now selling it.
It is not clear for how much this ur-Kassay changed hands–or when, but it was after trying to sell it for $150k in 2012, and certainly for more than the current estimate. This could be your chance, savvy connoisseur, to acquire a beautiful and historic work of the artist's, restore balance to the force, and cause someone to lose a hundred thousand dollars, all at once.
Oct 18, 2020, Lot 157: Untitled, Jacob Kassay, est. $40-60,000 [lamodern]
update: it didn't sell. that we know of.
May 2021 update: This major work appeared at auction again, at Rago, and because I was unable to keep track of what day it is, I missed it selling on May 19, where it sold for $4,550, including premium. I am hugely bummed to have not bought it, but applaud the connoisseur who did. Of course, if there'd been another bidder, the price would have been higher. Anyway, HMU, winner!