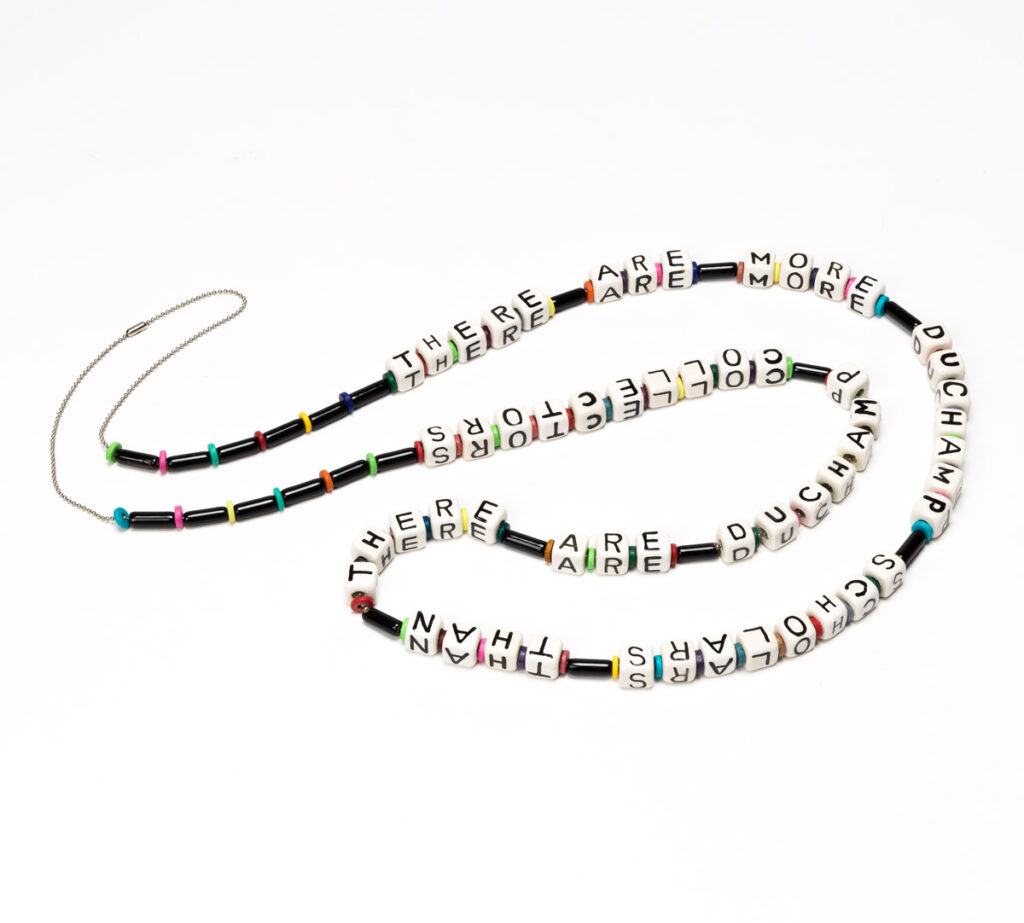 This is a bead necklace made in 1997 by the artist Naomi Savage for the dealer Virginia Zabriskie. It reads, "There are more Duchamp scholars than there are Duchamp collectors."
Savage was Man Ray's niece. Zabriskie showed Man Ray's and Savage's work over the many years at her eponymous galleries, which she closed in 2010. Zabriskie passed away in 2019, and her collection will be sold at Swann this month.
The Duchamp necklace is 61 inches long, which strikes me as pretty damn long for a necklace, a double loop all the way down into your cleavage. So those 77 beads are big, almost like blocks. This is a statement AND a necklace.
This necklace is accompanied by a small (3×7 inch) signed print, dated 2002, a color image of the necklace itself arranged on a flatbed scanner. It feels like a certificate of authenticity to me. Another image, 10×14 inches, and laminated (!), is a filtered and rasterized depiction of another beaded statement necklace, not included in the sale, which reads, "I'll sell when you catch up to my prices."
Not gonna lie, until I started typing this, I wanted this necklace, or to make it, or to make the other one. But I thought they were tiny, like baby bracelet-size. And then I was also, respectively, like, "Well, good for Duchamp!" and "Sorry you don't have any collectors!" So unless or until I give a talk at CAA and need some ironic bling, I'm going to just sit this one out.
Sept. 21, 2021, Lot 134: Naomi Savage necklace, est. $800–1,200 [swanngalleries]