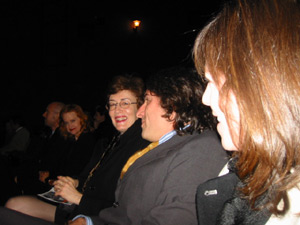 from r: Jane, David, Nancy, Swoosie
First, the good. Star photographer-to-the-stars Patrick McMullan has posted Billy Farrell's party pics from the Alexander Payne event last week.
Then, the lame. In a bit they call House of Payne, the Daily News pretends that Alexander Payne was a pain in the ass and that "he should get over himself," slamming him for his "snippiness" toward good friend and interviewer, UA chief (and legendary indie film producer/distributor) Bingham Ray. But it's totally not true. Here's the deal: Rush & Molloy are too afraid of upsetting a studio head by saying he talked too much or sometimes inadvertently cut Alexander off; instead, they'll take lame shots at an extremely friendly, self-conscious director.
Ray and Payne had gone off earlier in the day to discuss what themes and ideas they'd talk about on stage. During the rehearsal, their back-and-forth conversation was both animated and fascinating. Both are behind-the-camera guys; performing for a crowd doesn't come naturally to either of them. When the lights went down, Alexander was much more self-conscious, and Bingham was much more talkative.
Many people told me they found the whole conversation very interesting. Some found it interesting, but thought Ray talked too much, at least for an event about Payne. And a couple of people wondered, who was that guy? If that's you, you're not in the film industry. But if you know Bingham Ray, you want to work with him, and so you're probably not going to tell him he talked too much. It's the paradox of power.
My take: Ray said several times that night he'd never spoken in a one-on-one format like that, and he'd be mortified to think he messed up Payne's evening in some way. So if he talked over Alexander's answer, or told some story of his own, it was with the best of intentions. But hold a position of power and be sought out for your vision, for a long time, and you can become accustomed to being listened to. Bill Clinton was the same way. And Payne was a combination of polite, nervous and self-effacing; he's not gonna call a friend on something in front of a crowd, and his own reluctance to analyze his work beat out any fleeting desire to spoon-feed the crowd.
As these two brilliant behind-the-camera guys gamely put on their best show, the producer sitting next to me had quickly figured it out. She leaned over to me at one point and whispered, "I want to hear the DVD commentary track for this."