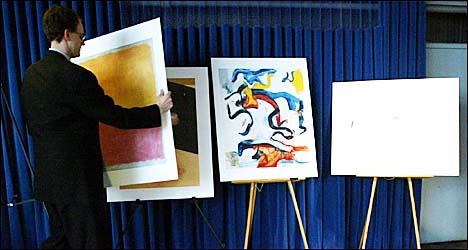 US Attorney/curator with posters of Rothko, Bacon, deKooning and either Twombly or Clemente,
purchased by Sam Waksal with an 8.25% discount, at least.
In the grand tradition of deposed CEO's, but with downtown sensibility (and far better taste), Sam Waksal pleaded guilty to evading sales tax on $15 million in paintings he purchased through
a major New York dealer.
It was the old, "send it to my factory in NJ, nah, just fax the invoice there" ploy, which has been tripping up art world naifs since the 80's, at least. (Clearly, it's worth it to work it and get your 10% discount from the dealer instead.) Waksal's lawyer tells the
Washington Post
that his client was "not the architect of the scheme." Yow.
Since no report names all nine works involved, here it is, a greg.org exclusive: