So you're saying, if you suspend habeas corpus and pre-emptively arrest hundreds of pedestrians, I'll be able to drive my Mercedes [sic] to the Upper East Side from the Holland Tunnel in 10 minutes every day? I have to confess, it's a seductive proposition.
[First they came for the carless, yet I did nothing...]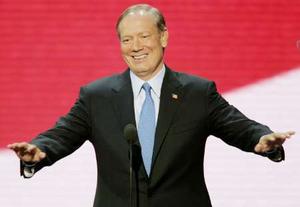 And while I'm watching the giant flag behind George Patton Pataki--It's rippling!-- I'm thinking, "gots to get me one of those 3-story high monitors."
[Then, they came for the flatscreenless, yet I did nothing...]
Then, when the guy who plays the Giuliani-style right-wing DA on L&O starts narrating a Bush video--I'm all, ah, a slide show; the resolution on that monitor probably can't handle full motion--the photographs seem strangely alive, with an intensified depth of field. And movement? Naw...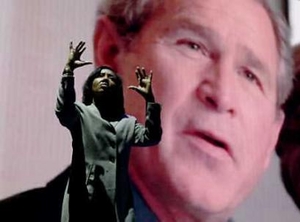 Oh my hell, talk about seductive. This full-blown cult of personality film is using a more sophisticated version of the entrancing photo-animation technique developed for The Kid Stays in The Picture, the ultimate self-deluded, "so seductive who care's how much of it's true" Hollywood insider documentary. They've turned Robert Evans and Graydon Carter against themselves--and the whole celebrity-worshipping country--and made them bow to George W. and His Will.
[Then they came for the DVD-less, yet I did nothing...]
Scott Sforza, you are truly worthy to be called the Leni Riefenstahl of your generation.
[And then they came for me, and there was no one left.]
Dude, I really wish you'd skip right to making movies about fish.