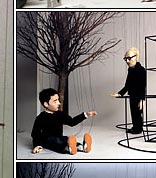 After the stunning success of Team America World Police [Hey, turns out they got the US political climate right after all...], puppet projects are breaking out all over.
At Harvard's Carpenter Center for Visual Arts, the artist Pierre Huyghe is staging a puppet meta-opera that tells the stories of Le Corbusier's design for building and Huyghe's production of the opera. [That's the "meta-" part. And yes, the puppets have puppets.]
The performance is November 18th at 6pm; a filmed version will screen in a blobular theater attachment until April 17.
Huyghe & Corbusier: Harvard Project [VES, Harvard]
NYT story with rehearsal stills