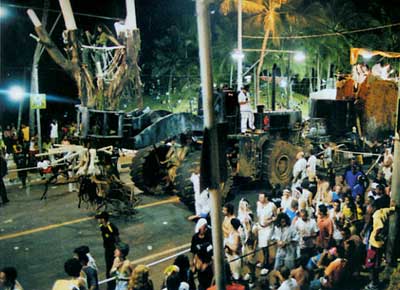 For those who wondered how Matthew Barney was planning to top his five-part
Cremaster Cycle
...
For those who wondered, after watching The Cremaster Cycle, if Matthew Barney was really a top...
For those who want to top Matthew Barney yourself...
Have I got a site for you: CremasterFanatic.com
While there's plenty of Cremaster-related material, including fan photos and videos [!!], I like the news section the best. It's got reports on Barney's latest film, de Lama Lamina, which opened last month at the Sao Paolo Biennial.
de Lama Lamina was shot documentary-style during this year's Carnaval in Salvador de Bahia, Brazil, on a Barney-created float surrounded by 1,000 Barney-clad samba dancers. Two actors representing deities from the local Candomble religion rode the float, a mud-covered clearcutting tractor hauling a torn up tree trunk.
Did someone say trunk? Since one role involved an "auto-erotic scene filmed under a slow-moving vehicle in an extremely confined set," Barney's people ran an ad, hoping to cast someone from local "porn/stuntman" stock. Yow, documentary-style indeed.
Links:
CremasterFanatic.com
Local Male Pornstars Wanted [AIN]