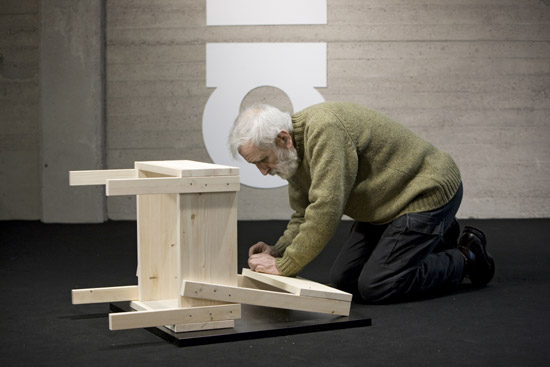 HUGE news from on the Enzo Mari autoprogettazione X [Scandinavian Furniture Giant] mashup front:
The Finnish manufacturer Artek will announce 'sedia 1- chair,' "the first object from Mari's thought-provoking project 'autoprogettazione' to go into production" with the company. "the first"!
Like the original "manufacturer," Simon International, run by Dino Gavina, Artek will sell you a stack of pre-cut pine boards, some nails, and the instructions. Look at those wide boards, they're built up, just like the tabletops on certain other autoprogettazione pieces I've seen from the region.
For the full press release/preview, and more shots of Mari building his own damn chair, thank you very much, go to designboom. [thanks andy]
Previously: the Enzo Mari X IKEA mashup saga