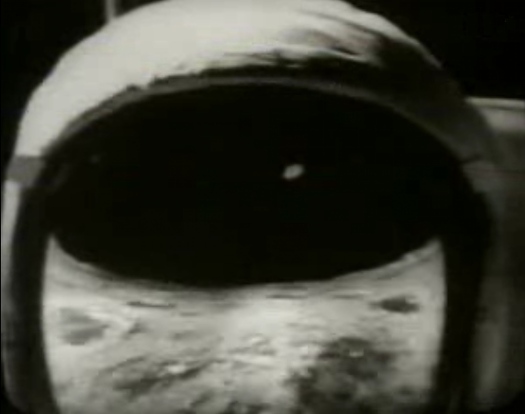 I was half-watching the German artist Ferdinand Kriwet's Apollovision, a film & sound & video collage of the Apollo 11 moon landing as American media spectacle made, incredibly, in 1969, when I heard this:
Now you can follow the Apollo astronauts as they explore the Sea of Tranquility and the Ocean of Storms!

Brillo offers you an Official Rand McNally 18x24-inch Moon Map

Just send two labels from any Brillo product

to Brillo Moon Map Offer

Let Brillo give you the Moon--free!
Which is hilarious, except that it's completely not. How quickly did Brillo Boxes transmute from banal, everyday product to icon of Pop Art? For those who lived through the 60s, the dissonance might have been jarring, but now, Brillo just is an art object. What was it like to see it in 1969, when Pontus Hulten was, er, figuring out what to do with all those leftover boxes? Or when the
folks in Pasadena and LA were asking Andy if they could whip some up, too
, would he mind? It's for a show? What was Brillo in the culture at the moment it was making Art History?

I'm not sure it was anything, or that it really cared terribly much about Art History. As I write this post, the only Google result for "Brillo Moon Map" is from a
rather simple, beautiful ad in the August 8, 1969 mega-moon issue of LIFE magazine. It's just one of many ads with lunar tie-ins, ads for everything from frozen foods ["Everybody who's been to the moon eats Stouffer's"] to frozen foods ["Congratulations Neil, Buzz and Mike. We're just glad we could help./Frozen meals provided by O'Brien, Spotorno, Mitchell, a subsidiary of the Del Monte Corporation."] to toothpaste [Crest: "The Astronaut Dental Care Program"].
Hulten and the folks in Toronto who exhibited actual cardboard Brillo boxes got their shows up just in time, because by 1969, Brillo had redesigned its packaging. [update: in 1967, actually.] Which meant that the 1970 Pasadena boxes were now out of sync with the product they replicated; they were historic, not copies of Brillo's boxes anymore, or even James Harvey's, but copies of Warhol's Brillo Boxes.
Was there any moment where Warhol contemplated keeping them conceptually linked, maybe instead of varying the size, having the 1970 Brillo Boxes fabricated to look like Brillo's 1970 boxes? I'd guess no, but I haven't even heard the idea floated before. Warhol made his Brillo Boxes point in 1964, and the rest is history.
But what are the conceptual implications of the Brillo Boxes, and how did they develop? They were sculptures, symbols, objects, appropriations, readymades [at least the cardboard versions exhibited were]. If they had a conceptual element to them, though, might that affect the whole Hulten Box Affair, which I obviously can't wrap my head around?